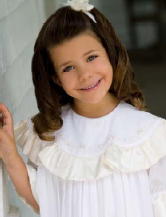 Cailee F. Calabrese, winner of the 2009 National American Miss North Carolina title, is participating in a community service project to collect DVDs for American soldiers serving abroad.

Cailee is the 5 year old daughter of Kimberly and Dr. Carmen Calabrese of Pembroke, North Carolina. Her mother, the former Kimberly Wayne is a graduate of Calhoun High School, her grandparents, Doris and Ray Wayne now reside in Elizabeth.

"One of the events I am participating in is a community project, and I thought, because I like to watch movies, our soldiers serving overseas would enjoy some movies as well," Cailee said.

Cailee will attend the national American Miss pageant at Disneyland in Anaheim, California, in November.

The pageant is dedicated to encouraging future leaders and its motto is "Today's Girl, Tomorrow's Leaders." Cailee is a dancer and member of the Cumberland Dance Academy. She won second place in the recent Encore Dance Competition in Winston-Salem, N.C., and won or placed in a tap and jazz dancing and "photogenic" contests.