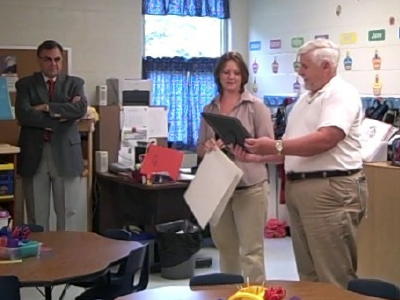 Pleasant Hill principal Robert Bonar (left) looks
on as teacher Jan Whited presents Dan Hill with a
special "Thank you," from kindergarten students
Submitted by Bette Ritchie
Kindergarten classes at Pleasant Hill Elementary will soon be climbing and playing on a new structure and they have Mr. Dan Hill of Dan Hill Construction Co. to thank for it.
For a couple of years the kindergarten classes at PHE had been conducting fundraisers and saving their money with the hope of purchasing a new structure. However, two years of fund-raising fell short of providing enough money to purchase even the smallest regulation approved play structure.
This past summer's construction work required dismantling and removing two existing pieces of play equipment on the kindergarten play area. Both structures had been in place for many years and were not in good condition. Putting them back would create a safety hazard. Graciously, Mr. Dan Hill purchased a very large play structure for the kindergarten playground, to replace the ones that had to be taken down.
To show their sincere appreciation, the kindergarten students presented Mr. Hill with a picture of all kindergarten students displaying a message thanking him. Both kindergarten classes came together to present Mr. Hill with the picture and a card signed by all students the kindergarten staff are also grateful for his generous contribution to the kindergarten classes and the school.