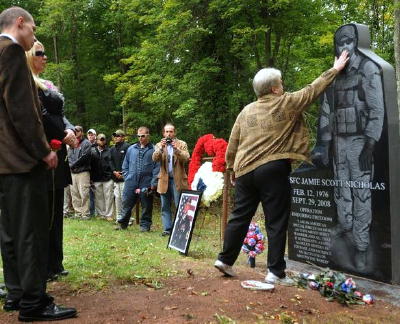 Karen Nicholas, the mother of Jamie Scott Nicholas, touches
her son's memorial statue during a ceremony at a Clay County
mountaintop gravesite on Tuesday. (Photo by Kenny Kemp)
By Kathryn Gregory
Staff writer
wvgazette.com
CLAY, W.Va. - "The path of a hero is terrain only the brave will ever know ... My brother is my hero," Cindy Nicholas said Tuesday.
Her brother, Sgt. First Class Jamie Scott Nicholas, a U.S. Army Green Beret, was killed in Afghanistan a year ago Tuesday when an explosive hit his Humvee during a routine mounted patrol.
"I hope this day brings more smiles then tears, but if not, that's OK," his wife, Michelle Nicholas, said Tuesday. "When I think of Jamie, I can't help but smile. He was the love of my life."
After her husband died, Michelle promised always to remember him. She decided to turn her grief into something positive by finding ways to remember her fallen husband.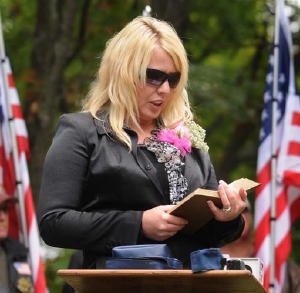 Michelle Nicholas reads a passage out of her husband's
Bible during the service. (Photo by Kenny Kemp)
She single-handedly organized Tuesday's memorial service and had a memorial statue commissioned by a former Disney artist. The life-size statute, 6 feet tall and 4 feet wide, stands near Jamie Nicholas' grave in a family cemetery off Horse Fork Road in Clay County.
"When Jamie passed, she didn't have as much confusion people normally do when someone passes away," said family friend Michael Spencer. "When she decided she was going to honor and remember him, it was like she was traveling down a familiar path."
Spencer, who is writing a book about the 32-year-old Clay County native called "The Life and Death of El Diablo Blanco," said he has never known anyone like Michelle.
"She took a full frontal attack on her grieving," he said. "She's tough."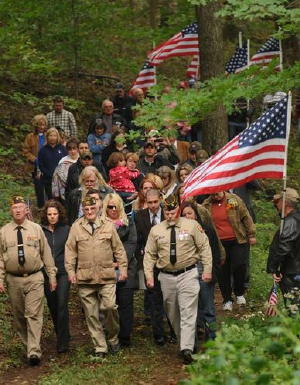 Family, friends and veterans walk a mile to
Nicholas' gravesite. (Photo by Kenny Kemp)
Michelle also invited the Patriot Guard, a motorcycle guard made up of war veterans who ride across the country to attend and honor military funerals, to Tuesday's ceremony. The veterans lined the one-mile dirt road through the woods to the mountaintop graveyard where Jamie's memorial sits, holding American flags and saluting Jamie's loved ones as they walked by.
Michelle, a former police officer and personal trainer with a black belt in karate, joined the Patriot Guard after Jamie was killed.
"She really loves her husband," Spencer said. "It will be interesting in what she does with herself over the next few years. She can't sit still. She has to be going.
"I know she is going to help a lot of people."
Michelle said that losing her husband has changed how she looks at life.
"When I look at the American flag, I think differently about it than a year ago," Michelle said. "When I watch the flag wave, I think of what Jamie gave."
For her, the flag represents Jamie's lifer as a solider, from the blue standing for his vigilance, the white for freedom and the red for valor.
Jamie not only touched the lives of his family, but those he worked with in the Army.
"A year has passed. Time seems to have stood still, or moved in slow motion," said Jamie's detachment commander, Maj. Aaron Bush. "It's funny how a slight change in the season can make you recall aspects of your life."
Bush said Jamie Nicholas was the life of the team, and was the unit's Swiss Army Knife.
"He always had the tool to fix something, or knew what direction to go in," he said.
When Jamie, a 14-year Army veteran, decided to go into the Special Forces as a Green Beret, he worked for months and months, preparing and learning, Michelle said.
"He was always up for a challenge. Whatever the next level was, he would take it on," she said. "I remember he had to learn Spanish as his language. That was the roughest challenge he went through. He would watch Spanish soap operas and try to pick up on the languages."
Michelle remembered how Jamie used to always surprise her at work with silly gifts or flowers, just to remind her that he loved her.
"He used to love to go to Home Depot. He'd come home and pull into the garage and yell into the house, 'Honey, come here I got you a present,'" she said. "So I'd be curious and go outside and he'd say 'look honey, I got you a toilet.'"
The sense of humor was one of the reasons she fell in love with her husband, she said. "His laugh would always make me smile," she said.
Although she doesn't feel calm or collected every day since her husband's death, she says she knows he is in heaven watching her.
"Do not shed tears for me because I am gone, but smile because I lived," Michelle read at the gravesite on front of Jamie's memorial statue. "You can remember me and grieve that I have gone, or cherish my memory and let it live on."
And Michelle Nicholas vows to do just that.
Reach Kathryn Gregory at kathryng@wvgazette.com or 304-348-5119.