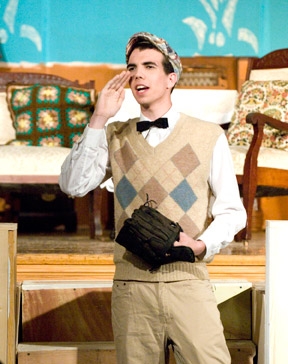 Eugene, played by Justin Blankenship, is a wide-eyed 14 year
old, but often thinks the family blames everything on him.
Story and Photos by Drew Moody
The Neil Simon comedy, "Brighton Beach Memoirs," opens tonight at Glenville State College.
It's a look at middle-class life in pre-World War II America as seen through the eyes of 14-year-old Eugene.
Eugene is entering puberty and dreams of becoming a professional baseball player.
Because of a death in the family, his aunt and two female cousins share the household.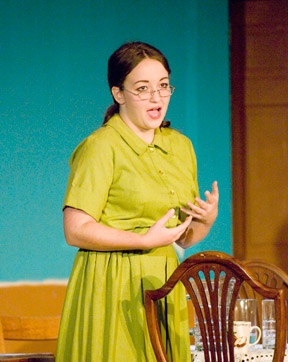 Blanche Morton, played by Whitney Stalnaker, moved
into the Jerome house after her husband died several
years earlier. She's thankful, but also feels guilty
she and her two daughters were forced to move in.
Life isn't easy and Eugene's father must work two jobs.
It makes for a challenging brew that brings out frustration, and unexpectedly tender moments as well.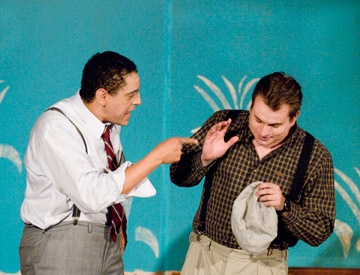 Jack (Gary Morris) reacts strongly to his son
Stanley's (Justin Church) problems at work. But
just as quickly he sees his son's point of view too.
Cast members include: Justin Blankenship, Whitney Stalnaker, Jamie Stanley, Ryan Konarske, Rebekah Boyles, Justin Church and Gary Morris.
Curtain time is 7 p.m. for the Thursday, Friday and Saturday night performances in the administration building auditorium. Admission is $3 for the public; GSC students are admitted free.
The play is directed by GSC professor Dennis Wemm.
Due to adult themes and language the play has a PG-13 rating.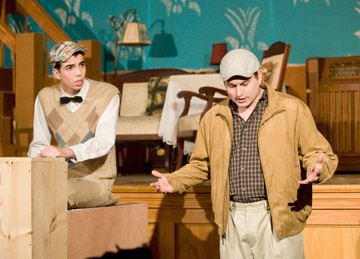 Eugene (Justin Blankenship), left, listens intently
to his brother Stanley's (Justin Church) problems.