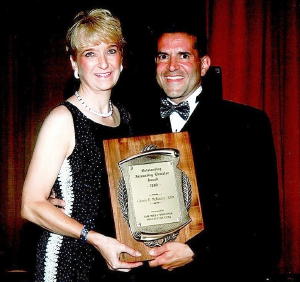 Cheryl McKinney receives the Outstanding Educator Award
from outgoing WVSCPA President Norman Mosrie. McKinney
is the daughter of Paul and Glenna Fleming of Arnoldsburg
Submitted by Bob Edwards
Public Relations Dept. Asst.
Glenville State College
Glenville, WV - The West Virginia Society of CPAs (WVSCPA) has honored Glenville State College Associate Professor of Business Cheryl McKinney with the 2009 Outstanding Educator Award. This annual award recognizes a full-time accounting educator or recently retired educator who is distinguished for excellence in classroom teaching. It also recognizes active involvement in the accounting profession. The presentation of the award was made at the WVSCPA annual state meeting at the Greenbrier Resort on June 19th.
"I am truly honored and humbled to be recognized by the premier professional accountancy organization in the state. It has been my privilege to teach our Glenville State College accounting majors over the last 26 years and I am proud of all they have accomplished as students and as professionals." said McKinney.
McKinney has been teaching at GSC since 1983. She received a Bachelor of Science Degree in Business Administration from West Virginia University in 1982 and a Masters of Professional Accounting from WVU in 1984. She received her Certified Public Accountant license from the West Virginia Board of Accountancy in 1986.
"The WVSCPA selected Cheryl McKinney from a statewide list of very worthy candidates. This prestigious award is not only a great honor for Cheryl, but also reflects very positively on the Glenville State College Business Department and the outstanding quality of the GSC faculty," said Dr. Sherry Jones, GSC Professor of Business Education and Department Chair.
Receiving the WVSCPA award makes McKinney eligible for the American Institute of Certified Public Accountants' (AICPA) National Outstanding Educator Award that will be presented in May 2010 at the National Council in San Diego, California.
McKinney is the daughter of Paul and Glenna Fleming of Arnoldsburg.