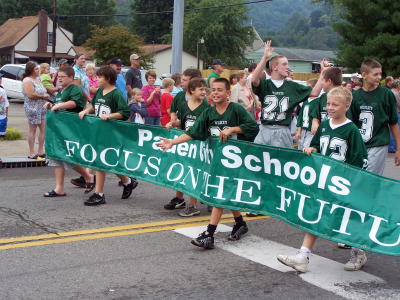 "When is West Virginia going to start investing in kids, flesh and blood, not bricks and mortar," asked Paden City High's athletic director Fred King.
Hundreds of Paden City parents and community leaders have joined an organized effort called The Cornerstone Project, to save Paden City High School, slated for closure and consolidation with Magnolia High School in Wetzel County.
Paden City High School is ranked among the top ten public schools in West Virginia. The adjunct elementary school is a WV Blue Ribbon School of Excellence.
The school meets or exceeds WESTEST standards, with students consistently ranking above state and county averages, related to 37 standards of No Child Left Behind.
"Community is a word the citizens of Paden City have gotten to know very well," said organizer Rodney McWilliams.
Chuck Bowen is among the leaders in saving the community school, saying "A dark cloud threatens to change our way of life, we stand together in the fight to save the cornerstone of our community."
"It is about saving our town and a way of life," Bowen said, indicating there is evidence Paden City students are doing better than other regional schools.
McWilliams spoke about schools being cornerstones, "Our school is the single most important institution in our community, a focal point of life."
Paden City says they have the best school facilities in Wetzel County.
"The reasons for closure and consolidation are well-known in WV," said Challenge WV Executive Director Thomas Ramey, 'Keeping the school open costs too much money, with consolidation promising to save money, and that small community schools cannot offer a broad enough curriculum.'
The cost of operating Paden City High School, according to Cornerstone, represents only 5% of the county school budget.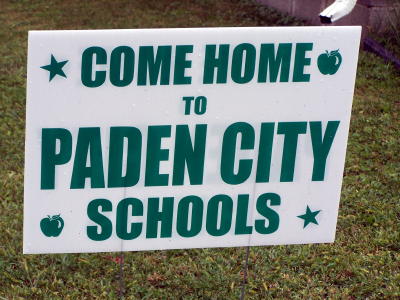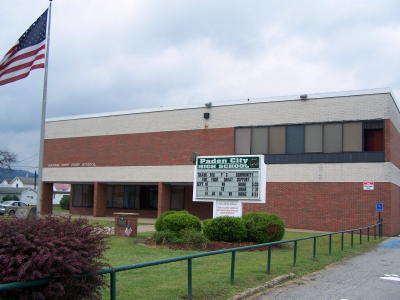 Paden City High School (bottom photo) supporters are taking
a pro-active stance not only to save their award-winning school,
but encourage regional students to return to the school (a
considerable number already have) and further improve academics
The community group has taken a proactive stance to maintain their school, initiating a campaign asking students who are attending other regional schools to return to Paden City, encouraging the elevation of support and performance within the school.
Nine out of ten parents surveyed had said they will not send their students to Magnolia, further stating they will not support a Wetzel County school levy.
The Cornerstone Project is continuing to work with a sense of integrity and urgency to protect "an impressive history of education" in the Paden City community.
McWilliams, speaking to a community group, said "If we don't stand together now, we will stand for nothing tomorrow."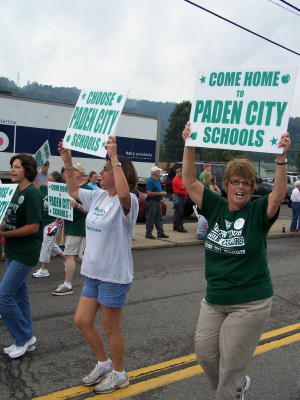 Parents march in Paden City's annual Labor Day parade