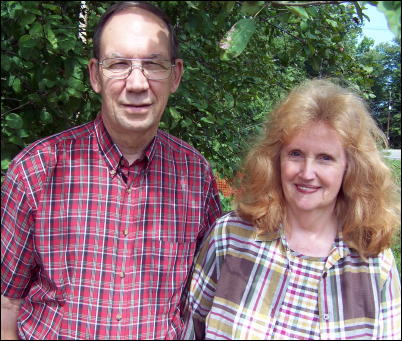 2009
Mt. Zion residents Vier and Thelma Hall have been named parade marshals for the 42nd annual WV Molasses Festival at 1 p.m. in Arnoldsburg.
The Halls, longtime supporters of the festival, have been married for 44 years. They have two children, Wilma of Newark, Ohio and James Vier of Florida, and a deceased daughter Debra Lynn who died in 1971.
They have twin granddaughters, Montana and Dakota.
Vier, a native of Arnoldsburg, attended Arnoldsburg School and Calhoun County High School. He has a degree in advanced hardware retailing from Indiana University.
He recently retired from Hardman Supply after over 42 years service.
Thelma graduated from Franklin High School in Ohio, worked for B. F. Goodrich, the Mt. Zion Post office, and has sold monuments for 37 years.
The Hall's attend the Mt. Zion United Methodist Church and sing in the church choir. They do volunteer work for the Mt. Zion Community Park, the West Fork Park at Arnoldsburg and the Grantsville Senior Citizen's Center.