Tentative Program:
Tuesday, September 22 - 11am-7pm - Quilts only accepted (Quilts must remain until 1pm Sunday); 7-9pm Judging Quilts>
Wednesday. September 23 - 2-7pm - All other exhibits and Country Store items accepted at Park. (Exhibits must remain until 3pm Saturday); 7:30pm Judging Exhibits begins
Thursday, September 24 - 9am-12-noon Judging Exhibits Completed; 10am-3pm Molasses Making Demonstrations; 5pm Flag Raising Ceremony; 6pm Crowning of King & Queen; 7pm Pretty Baby Contest (Registration will begin at 6 p.m. through 7 p.m. in the small kitchen side of the building-look for signs. The entry fee is $10 per baby. The age groups for the contest will be 0-6 months, 7-11 months, 1 year, 2 years, and 3-4 years. Boys and girls will be judged separately. There is no specific attire for the contest- babies-children may wear dresses or casual wear.)
Friday, September 25 - 10am-3pm Molasses Making Demonstrations; 3:30pm-6:30pm Sausage-Pancake Supper; 5:30pm Cake Walk sponsored by Glenville Care and Rehab; 7:30pm Gospel Music featuring The David Bowen Family, Stockner Family & Friends, Ron Shamblin
Saturday Morning, September 26 - 10am-3pm Molasses Making Demonstrations; 10am Rubber Ducky Race; 11am Parade Line-Up at Arnoldsburg School; 11am Chicken BBQ begins; 12-noon Judging Horses & Wagons at Arnoldsburg School.
Saturday Afternoon, September 26 - 1pm Molasses Festival Parade - Calhoun County Band Performance after parade; 2pm Karaoke; 3pm Molasses Festival Idol, Corn Hole Tournament, Kids Games on ball field; 3:30pm Parade Trophy Presentations; 6:45 pm Quilt & Final Prize Drawings; 7pm Crossfire Country Music Concert begins
Saturday Afternoon, September 26 - 2:30 pm - Sign-up for Kid's Day Contests to begin at 3 pm. Greased Pig Chase for ages 6-8, 9-12 and 13-16. Entry fee is $5. Obstacle Course for children five and under. Entry fee is $1. Each child will win a prize at the end of the course. Pigs are sponsored by Kyla & Loren Lovejoy, Randall & Mila Arnold, Kenny & Debbie Arnold, and Marvin & Millie Arnold. Contact Millie Arnold for more info (304)655-8960.
Cook-Off entries will be accepted from 9:30-1l:00 a.m. Saturday Sept. 26th.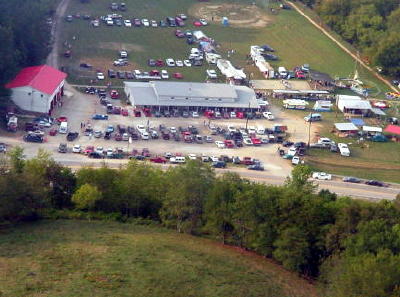 2005 Molasses Fest from the air - Photo by Harry Simmons
Contacts Are:
Co-Chairpersons - Dawn Burris 304-655-8465, Crystal Brenneman 304-655-7647
Molasses Making - Daniel Mace 304-354-6822 and Vier Hall 304-354-6205
Jugging Molasses - Thelma Hall 304-354-6205
Country Store - Jessie Wilson 304-655-0002
Food Preparation - Janet Marks 304-655-7270
Chicken BBQ - Kenny Arnold 304-655-8943
Commercial Exhibits - Shirley Mace 304-655-8822
Non-Commercial Exhibits - Arnoldsburg Crafty Ladies 304-655-8822
Art & Photography - Jan Hastewell 304-655-7225
Entertainment - Dawn Burris 304-655-8465 and Crystal Brenneman 304-655-7647
Parade - Norma Collins 304-655-7578
Pretty Baby Contest - Patty Haught 304-354-6871
Information - Margie Evans 304-655-8550
Maintenance - Harless Mace 304-655-8822 and Dave Cottrell 304-655-8604
King & Queen Contest - Arnoldsburg PTO 304-655-8204
Parking AVFD Derek Wright 304-655-6717
Camping - Dave Cottrell 304-655-8604
Children's Activities - Millie Arnold 304-655-8960
Molasses Sales - Betty Price 304-655-7583
All vendors of any type merchandise and exhibitors should contact the chairperson prior to placing an exhibit. A $10 fee is required from all Commercial Exhibitors, plus 10% commission on profit from sales.
Sale of Country Store items require 10% commission. An entrance fee of $25 is required if electric is needed.
Articles previously exhibited at the Molasses Festival may be shown again but are not eligible for judging.
Any proceeds received by the West Fork Community Action, Inc., are used for maintaining and improving local community projects in the Arnoldsburg-Millstone area. The West Fork Community Action, Inc., will not be responsible for accidents or loss of merchandise.
Fees for Camp Parking is on a first come basis - Without Electric - $8 per day; With Electric $10 per day.