RETRO LIVE MUSIC DAYS AT THE DRIVE-IN

ADMISSION IS DONATION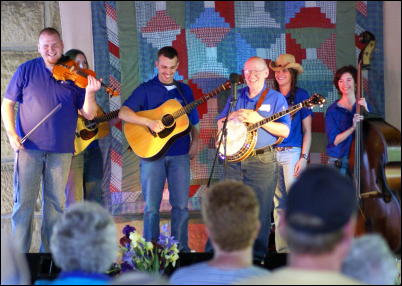 Submitted by Bob Edwards
Public Relations Dept. Asst.
Glenville State College
Glenville, WV - The Mount Zion Drive-In in Calhoun County is hosting an evening of Bluegrass music and a movie on Saturday, September 12, beginning at 7 p.m.
The event will recreate one of the historic drive-in Bluegrass music shows under the stars that were so popular during the 1940s, 50s, and 60s when most of the major Bluegrass performers had tours which appeared at many of the area drive-in theatres.
Most notable among the bands who frequented our local drive-ins were Columbia recording artists and Grand Ole Opry stars Lester Flatt and Earl Scruggs, Mercury recording artists Ralph and Carter Stanley, King recording artists Don Reno & Red Smiley, MGM recording artists the Osborne Brothers, and RCA recording artists Melvin and Ray Goins and the Lonesome Pine Fiddlers.
"These guys were the 'big guns' of the era, writing and recording classic standards which we study and emulate today. These stars would meet and greet the fans in a close-up and personal way at drive-in concerts, a tradition which has been lost or ignored by most top recording stars today.
I still recall the excitement with the smell of popcorn and the electricity in the air as people flocked into the drive-in to see and hear their favorite entertainers.
Some folks even sat and listened from their cars blowing horns instead of applauding for each musical selection," said Buddy Griffin Instructor of Music at Glenville State College and member of the GSC Bluegrass Band.
At the peak of drive-in theater popularity, there were some eighty-five theaters in the state of West Virginia. Today there are only nine in operation in the state.
The Glenville State Bluegrass Band will be headlining the concert along with XM Radio favorites, Retro & Smiling and other special guests.
The GSC Bluegrass Band is an off-shoot of the Glenville State College Bluegrass Certificate program. Members include students: Luke Shamblin of Elkview, West Virginia, Josh Chapman of Sissonville, West Virginia, Derek Vaden of Kansas, Megan Murphy of Glouster, Ohio, Trish Cottrell of Glenville, West Virginia, and Buddy Griffin. Griffin also performs with Ashley Messenger as Retro & Smiling.
Topping off the evening will be the showing of "A Mighty Wind."
Tying in with the Bluegrass theme, the movie is a great folk music 'mockumentary,' starring Eugene Levy and Catherine O'Hara.
"We hope to recreate the atmosphere of those great drive-in Bluegrass shows from long ago. This will be the pilot event for what we hope will be a regional 'Bluegrass at the Drive-In' tour next summer," said Griffin.
In preparation for the evening's activities, around two dozen GSC first-year students will be visiting the Mount Zion Drive-In on Friday and Saturday, September 11th and 12th for a community engagement project that will involve painting, beautification, and setup for the event.
The Zion Drive-In Theatre is located on Route 16 in Calhoun County, seven miles south of Grantsville, West Virginia. Admission is a donation with proceeds benefitting the GSC Bluegrass Program.
For more information, contact Griffin at (304) 462-4130.