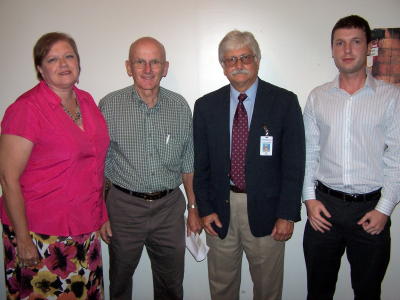 SUPPORTING COMMUNITY SCHOOLS (L to R) Challenge WV
members Jana Freeman, Arvin Harsh, Superintendent Dr.
Larry Parsons, and Challenge Executive Director Thomas Ramey
Preston County's new state-appointed superintendent Dr. Larry Parsons told Challenge WV, "My goal is to return trust and integrity to the county school system."
The state Board of Education seized control of the Preston County school system, citing serious financial, facility, curriculum and leadership problems.
"A community-school based bond to improve Preston schools is a reasonable move," Dr. Parsons said, indicating rural community schools and their supporters have "No reason to be treated like bastard children."
Jana Freeman, a Challenge WV fellow and advocate for small community schools, said "Preston County should be the shining star of how school consolidation helps education."
"That has not happened, scores and finances have worsened," she said.
Parsons supports improvements to small community schools, saying "We don't need luxury" for students to learn.
Preston now has one consolidated high school, three middle schools, and 11 elementary schools, some with different configurations.
Parsons contends that community schools are places with values.
Long time advocate for community schools and Preston resident, Arvin Harsh, said "Long bus rides certainly haven't helped students perform and achieve, and they have added enormous costs to the system."
"We buy kids plastic toys for Christmas that are sold in yard sales in June. Investing in our children's education is something they take with them every day of their life," Superintendent Parsons said.
Challenge WV Executive Director Thomas Ramey asked Dr. Parsons if he had been sent to Preston to close schools. Parsons replied "Anyone who believes that is ill-informed."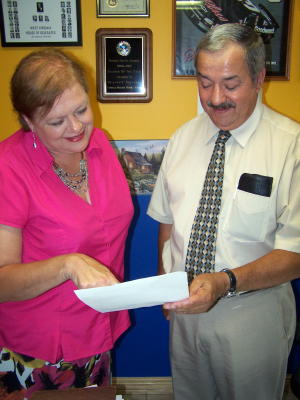 Challenge WV fellow, Jana Freeman and principal Stan
Shaver honor achievements at Fellowship Elementary School
FELLOWSVILLE A SHINY EXAMPLE
A glowing example in Preston County is Fellowsville Elementary (111 students, K through 5) declared a School of Excellence for many years.
Principal Stan Shaver said the effort to close the high-achieving community school likely resulted in the failure of the last bond to be defeated.
Shaver, a member of the WV Legislature and Fellowsville principal for nine years, told Challenge WV that the schools math scores are generally 25% higher that state averages.
Shaver, long an advocate for small schools, said "We can do it," with staff and parents uniting to solve problems and direct attention to students.
"Just look around. This is a busy place with parents involved. The building is in constant use, and we're taking advantage of every learning opportunity," he said.
Superintendent Parsons said "We certainly are not going to throw Fellowsville Elementary under the bus," like many of WV's rural schools that have been closed and consolidated.
Parsons had success with the Mason County school system, giving $14 million back to the School Building Authority, defying consolidation efforts.
Mason voters passed a $12 million bond to merge and improve their community schools.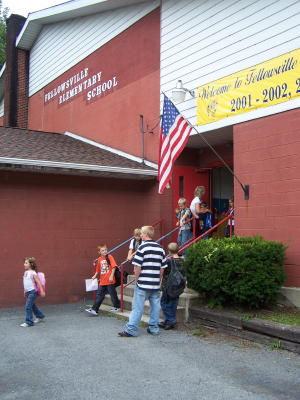 Fellowsville Elementary is an
Exemplary School, year after year
PRESTON'S DOWNWARD SPIRAL
When the state took-over the Preston school system, OEPA director Kenna Seal said, "It looks bleak and we think things are getting worse, not better."
"Students are being deprived of what they deserve from the educational system," Seal said.
Challenge WV fellow Freeman said "The county's wholesale consolidation has promised taxpayer savings, improved curriculum and better outcomes.
"Many schools are not meeting Average Yearly Progress (AYP) with declining scores and graduation rates," she said, "Preston schools that are doing extremely well, Aurora, Rowlesburg and Fellowsville are all small schools."
Preston voters narrowly defeated a $50 million school bond last November that would have built three new pre-K-8th grade schools near Arthurdale, Tunnelton and Kingwood as well as updating other facilities.
The system lost an additional $20 million in School Building Authority funding when it failed by just 61 votes.
"Some of the county's elementary and middle school buildings have been neglected for years," said Freeman, saying much of it has been planned obsolescence.
Challenge WV executive director Thomas Ramey said "Unfortunately, in most counties taken-over by the state, the academic scores have continued to suffer."
Superintendent Parsons assured Challenge fellows that "I will do my part to get it done.