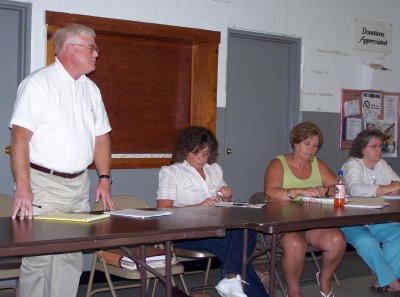 L to R: Jim Hildreth, Calhoun waterline project engineer;
Sharon Postalwait, PSD board chairperson; Wilma Mace, PSD
secretary/treasurer; Shirley Mace, PSD board member - officials
at special meeting in Arnoldsburg to determine contractor
Calhoun's 21-mile $5.2 million waterline extension, covering areas from Russett to Chloe, appears stuck once again.
The three-member Mt. Zion PSD board was a member short at yesterday evening's special meeting, called to approve a bid selection for the project.
Board members announced that Della Nichols had tendered her resignation.
The Calhoun Commission will be appointing a new board member.
Board member Sharon Postalwait made a motion to accept project engineer Jim Hildreth's bid recommendation, but the motion died for a lack of a second by board member Shirley Mace.
"I hope to go for whatever our engineer decides," said Postalwait.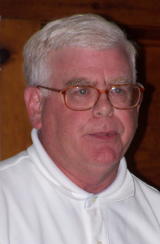 Engineer Hildreth (left) first indicated he was not required to announce his contract recommendation, but then told PSD customers that he had chosen contractor Bruce Allen, whose bid was $200,000 higher than Ron Lane, Inc.
Lane's waterline bid was for $3,233,033, while Bruce Allen's bid was $3,433,065.
Hildreth, when questioned why he did not accept Lane's bid, said "It's risk management," indicating it was based on his lack of experience.
Board member Shirley Mace raised the issue of a motion she made at a previous meeting, recommending the award of the contract to Ronald Lane, Inc.
Mace, who expressed dismay about problems with the project, said her motion had been seconded by board member Sharon Postalwait, and voted upon. She had just read the minutes, and the minutes did not reflect that decision.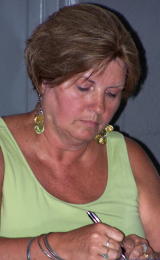 "What was in the minutes was not what I understood," responded, secretary-treasurer Wilma Mace (left) who records the meeting minutes.
Since the two-member board was at a stand-off approving Hildreth's bid selection, House of Delegates member David Walker, who previously served on a Clay PSD, suggested that Shirley Mace's motion and the board's decision be re-visited - "It should be cleared-up...I think you should tread lightly."
Hildreth said "No action will have a negative effect," on moving the project forward, suggesting the two remaining board members reach an agreement.
A number of community members attending expressed dismay about the management of the project.
Donald Little said, "I think we need to get us a lawyer," saying to engineer Hildreth, "You've brought this (the project) to a screeching halt."
Hildreth replied, "I think you have brought it to a screeching halt."
During much of the meeting, local residents expressed fear they would not get public water, sometimes making accusations against Hildreth or board members.
Calhoun contractor Ron Lane told those in attendance, "We'll abide by the board's decision, and we will not litigate," offering to extend his bid if it would help the project. Any litigation could potentially stall the project for a long time.
"We need to have this project move ahead," Lane said.
Lane said he is "mystified" that Hildreth did not contact any of the eleven individuals who provided letters of recommendation.
Hildreth responded by saying he would not discuss reasons for his recommendations.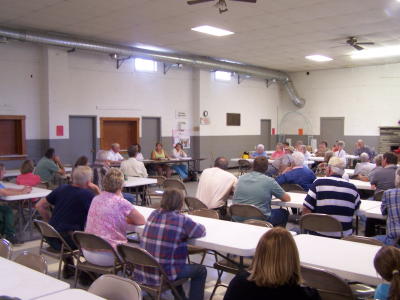 Community members expressed fears about not getting public water
Delegate Walker praised Lane for his hopeful comments about the project, saying he is "a professional and honorable gentlemen..."
The Mt. Zion PSD has been in hot water with the WV Public Service Commission for failure to provide records in a timely manner.
The PSD is currently in trouble with the WV Department of Environmental Protection, facing a penalty of $256,000 for unresolved problems linked to sewage operations.
Some of the environmental problems are related to the PSD's wastewater operation at Arnoldsburg, indicating spillage into the West Fork of the Little Kanawha.
A rather long problem list that has led to the penalties have been a matter of record since 2006.
The Calhoun Commission is at odds over the availability of PSD records, and has recently filed a Freedom of Information request.
Earlier this year, the commission discovered that most right-of-ways had not been obtained for the project, and helped get that part of the project unstuck, preparing it for bid.