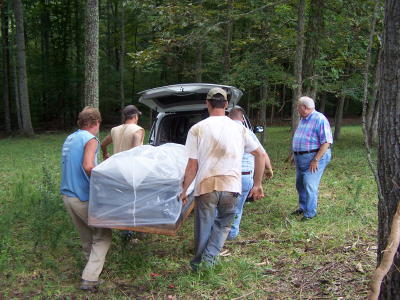 Stump's body being placed in hearse for trip
to medical examiner's office in Charleston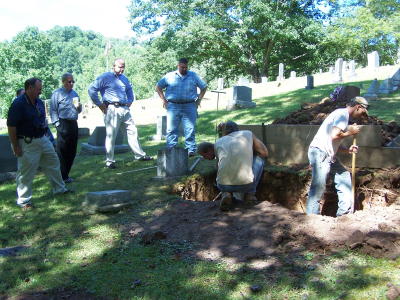 Tennessee officials observe exhumation (L to R) Det. Sgt. Dan
Goodwin, District Attorney Bill Whitesell, Lt. Bill Sharp, and local
funeral director Neil Stump, workers remove vault containing casket
By Bob Weaver Sept. 1, 2009
The body of murder victim Errastus Gene Stump was exhumed from his grave in the Clayton Stump Cemetery at Russett yesterday and taken to the WV State Medical Examiners office in Charleston for an autopsy.
Deputies from the Rutherford County Tennessee sheriff's department and a Tennessee District Attorney observed the disinterment by the Stump Funeral Home of Grantsville.
It was a solemn affair, described as "An unusual event in Calhoun County," by mortician Neil Stump.
Judge David W. Nibert had granted a petition to disinter the former Calhoun man who was murdered in 1982, at which time no autopsy was performed. He was 28 when he was murdered.
A medical examiner from Tennessee was expected to do the autopsy yesterday evening.
"The extraction of DNA is to prevent any post-conviction appeals based on identity," according to Detective Sgt. Dan Goodwin of the Cold Case Unit of the Rutherford County Sheriff's Office.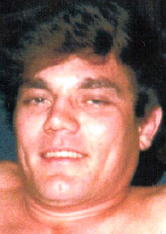 "We hope that this prosecution will give Mr. Stump (pictured left) some justice at last," said Sgt. Goodwin.
In 2008, twenty-six-years after Stump was slain, authorities arrested Mac Ray MacFarlane, 48, in Bristol, TN (who changed his name from McFarlin).
He was Stump's co-worker at the time of his death.
His body was found near Percy Priest Reservoir in Rutherford County TN, 35 miles south of Nashville and about 300 miles west of Bristol, according to detective Goodwin.
The original cause of death was given as a single gunshot wound to the head.
MacFarlane was charged with Stump's murder after authorities posted the murder as a cold case file and his former wife came forward to testify that MacFarlane told her he had a few beers and shot the former Calhoun man.
MacFarlane's wife reportedly said he killed Stump to get his job.
Two fishermen found StumpĀ¹s decomposed body near the shore of Percy Priest Reservoir about a month after he disappeared.
The victim was the son of Loren G. and Katherine Rogers Stump of Stumptown. Loren Stump died in Spencer in 2001.
The 2001 obituary of Loren Stump, Gene Stump's father, listed his survivors, five daughters, Sharon Norman, Joyce Miller and Vickie Carpenter all of Spencer, Charlene Wagoner of Gauley Bridge and Jewell Bastardo of New Jersey; also four sons, Glen Stump of Glenville, Steve Stump of Tennessee, Dwayne Stump of Spencer and Clifford Stump of Arnoldsburg; a brother, Leon Stump of Beaver Falls, PA; three sisters, Ella Elliott and Arlene Hicks of Arnoldsburg and Leta Boatright of Grantsville.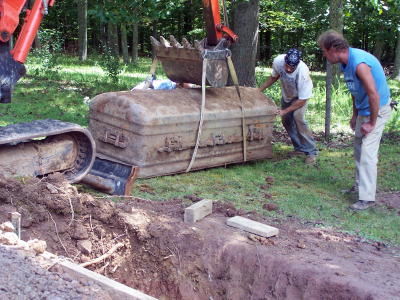 After hard labor, the burial vault is removed from grave
Postscript: Authorities, years later, did arrest and sentence Stump's murderer.