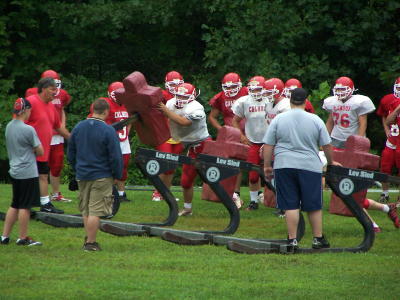 "The future is a world limited by ourselves"-- Maurice Maeterlinck
By Gaylen Duskey
realfang@citlink.net
How good will the Calhoun football team be this year?
It is entirely up to the Calhoun football team.
This year the Red Devils have talent as good as or better than every team they play. Every team, including defending Class A state champion Williamstown.
This year's Red Devils feature the leading returning ground gainer in the West Virginia in senior tailback Randy Fluharty. And that's a good start. But the talent does not end there.
Calhoun also has probably the best receiver in the Little Kanawha Conference. Unfortunately Zach Moore in playing quarterback. But as a freshman Moore's receiving numbers were better than Parkersburg Catholic's Cole Cwyner's were last year. And the senior Crusader was selected the offensive player of the year in the LKC.
There is depth in the backfield and some rangy types in the receiving corps. There is a solid offensive line. And the defense should be as good as it has been in years.
In other words this could, nay, should be the year the Red Devils run the table in the regular season and go deep into the playoffs.
But that is entirely up to them. And one must remember "them" is a group of 15-18 year old kids that have not been hardened by the taskmaster of age.
Looking ahead on a game by game basis:
1. Gilmer (home): I love Bucky Stewart. He is one of the class guys in coaching and he has a couple of former Red Devils -- Matt Walker and Jason Cunningham -- on his staff. The Titans are going to be a better team in the future. But the future does not start this year and Calhoun is the toughest team in Gilmer's schedule. EASY W.
2. Ritchie (home): Every year we hear Ritchie is better. Every year we fail to see it and the only thing that keeps the Rebels within shouting distance of the Red Devils is the Red Devils' tendency to play down to the competition. A couple of Rebel transfers on the Red Devils should cure that tendency this year. EASY W.
3. Doddridge (away): Doddridge is like Dr. Jekyll and Mr. Hyde when playing the Red Devils. At Mount Zion, Doddridge is easily beatable and Calhoun dominates. At West Union, Doddridge really makes the game interesting as Calhoun has a tendency to stumble, bumble and fumble during the game. This year Calhoun will eliminate some of that and talent will win out. EASY W.
4. Parkersburg Catholic (home): Last year Calhoun did everything it could to give the game to Parkersburg Catholic. It fumbled twice in the opening minutes of the game then it misfired whenever it got close to scoring. The result was a more talented team (Calhoun) lost to a smarter-playing team (Catholic). This year the mistakes will even out even though PCHS will pass a lot and pass defense has not been the Red Devils forte recently. HARD-FOUGHT W.
5. Williamstown (away): I wish this game were at Mount Zion since the Red Devils usually play the Yellowjackets much tougher at home. But it is not and this becomes just another challenge they must face. But the biggest challenge of all will be to realize they can and should win the game. If Calhoun can get the Yellowjackets out of their head they will win. HARD-FOUGHT W.
6. South Harrison (away): You always hear how good South Harrison is. But for some reason when it gets to mid-season you always hear how good South Harrison was. For some reason the Hawks just seem to run out of gas. This year, of course, South Harrison is supposed to be good. Who knows, may it will be. ROUTINE W.
7. Roane (away): Roane always has a talented group and the game is going to be play at Spencer. But as talented as the Raiders are Calhoun has found a way to come away on top in recent years. HARD-FOUGHT W.
8. Wirt (home): Yawn, yawn and yawn. Wirt plays hard and overall has beaten Calhoun more times that vice versa. But last year was something of a barometer of how the series has gone recently as the first half was tough and the second half was lopsided in favor of the Red Devils. EASY W.
9. Braxton (away): It seems like its always foggy or snowing when Calhoun plays at Braxton. That's about the most interesting thing in the game … either that or the neat Halloween costumes its band wears for the game. Either way the more Calhoun scores and the less Braxton scores the fewer times one has to listen to the Eagles' band play "Hail West Virginia." EASY W.
10. St. Marys (home): Ever since Paul Goodrich suffered a hip injury in the second half at Mount Zion a few years back killing a furious Calhoun rally, the Blue Devils have felt like they owned Calhoun. And, they have. This year the devils in red shake off the devils in purple's (I don't know why they call themselves blue) spell. TOUGH W.
That is, if you are counting, a 10-0. Its easy for us to say but we have no control. That, is up to the team. And 10-0 is within its realm.