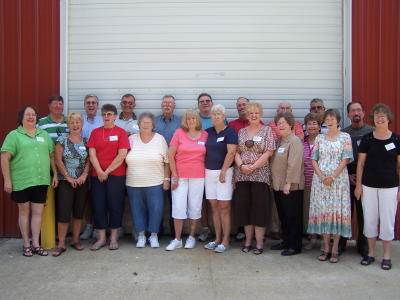 Class Of '64 attend reunion - Front row (L-R) Karen Yoak Lewis, Rosie Godfrey Croft, Emily Stump Gainer, Patricia Siers Vannoy, Sharon Jones Stull, Ioka Morrison Echard, Mary Propst Wilson, Joyce Owens Roberts, Carol Yoak Taylor, Carolyn Stemple Kelly, Phyllis Houchin Evans; Back row (L-R) Terry Fowler, Haven Johnson, Paul Webb, Ron Vannoy, Elmer Dean Shaffer, Daniel Heiney, Gary Nicholas, Roger Alfred, Stephen White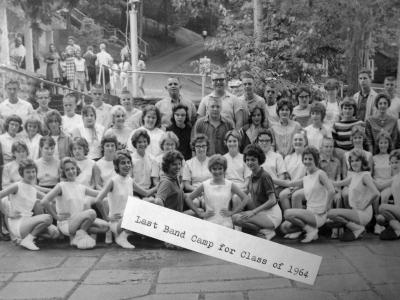 Band camp was a big deal
The Calhoun High School class of 1964 returned to Sunny Cal this weekend to recall school days and renew acquaintances.
In the 45 years since, they can be found in such places as Ohio, Montana, Alabama, Georgia, North Carolina, and Florida.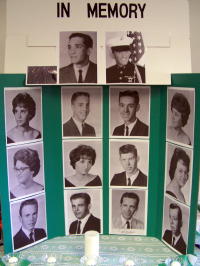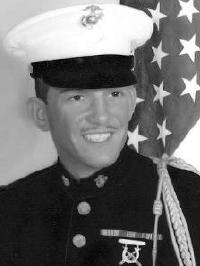 Time was taken during the visit and luncheon at the Grantsville Fire Department to remember deceased members (above) Gene D'Orazio, Gary Carter, Nancy Hawkey, Alva Lawson, Carolyn McCartney Postalwait, Lowell Riffle, Dorothy Hersman Slider, Lewis C. Smith, Dean Starcher, Bill Whipkey, Barbara Elliott Wilson, Ronald Wood, and Sharon Bell Wright.
A class member, U. S. Marine Lance Corporal Eddie Dean Starcher was one of two Vietnam casualties from Calhoun, killed in Da Nang Province in 1966.
Starcher, a resident of Henry's Fork, is buried in Bethlehem Cemetery with a memorial plaque placed at Calhoun County Park.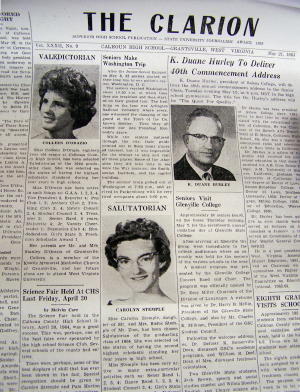 The Clarion's front page features Colleen D'Orazio Spelter,
Valedictorian and Carolyn Stemple Kelly, Salutatorian