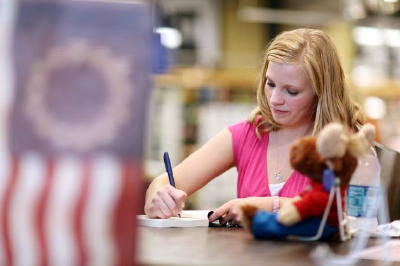 Jessica Lynch, the West Virginia prisoner of war who was
rescued in April 2003 after being held captive in Iraq,
signs "I am a Soldier Too, Jessica Lynch," written by Rick
Bragg during a book signing session at Empire Books and News
prior to the start of the Heiner's Summer Concert Series on
Thursday, August 20, 2009, at Pullman Square.
(Photo by Mark Webb - Herald Dispatch)
By Laura Wilcox
herald-dispatch.com
HUNTINGTON - A lot has happened to Jessica Lynch in the last six years, and she has a lot to look forward to, also.
"It's been definitely a busy time," Lynch said Thursday at a book signing at Empire Books and News.
Lynch, 26, signed copies of "I am a Soldier, Too: The Jessica Lynch Story," written by Rick Bragg. The book was originally published in 2003, and Empire sold out of the paperback as people were still waiting in line.
Lynch, who at age 19 was the first woman rescued as an American prisoner of war in Iraq, was invited to Huntington by Kindred Communications, which owns some radio stations in the area. Her visit coincided with the Heiner's Summer Concert Series at Pullman Square.
Lynch was rescued in April 2003 after being held captive in Iraq. On Thursday, she talked with supporters about her new life. She's engaged, has a 2 1/2-year-old daughter Dakota Ann Robinson, and is finishing up a degree in elementary education from West Virginia University at Parkersburg.
"I'm still in school and I start next week," she said. "I have a year left, but I'm like everybody else. I just want to get it over with."
The Wirt County native is also looking forward to judging a Mrs. America competition in coming weeks. Lynch will judge the competition in Arizona, where she will also get the chance to visit the family of her best friend killed in Iraq.
On Thursday, people began lining up at Empire more than 30 minutes before Lynch was scheduled to arrive. The long lines and gracious words of people over the years make her mother, Dee Lynch, proud.
"She's a good people person," Dee Lynch said of her daughter.
Huntington area resident Danny Pettry was the first in line with his camera and two books waiting.
"I'm a big fan of Jessica Lynch. I originally read her book several years ago and I just wanted to meet her," he said.
Ashley Reeves, 18, of Wayne, left in the middle of a movie on Thursday so that she could meet Jessica Lynch.
"She's an example of the heroes who stop their lives and enlist and go wherever they're needed to fight for their country," Reeves said. "Every individual in the military is a hero. Some get their stories told and some don't."
Reeves said she found out about the book signing when she was in town for another event and she already had movie plans with friends. She said she's also considered entering the military.
More than six years after her capture in Iraq, Jessica Lynch said she's just now getting used to publicity. She said people are generally positive, especially those from military families.
As she signed countless books and posed for many photos, many supporters also asked Jessica Lynch about her health.
"It's been a long recovery," she said.
She said her right foot was still "messed up" and requires frequent surgery. She said she'll likely undergo surgeries for the rest of her life.
Many people brought stuffed animals to Thursday's signing, too, to donate to Jessi's Pals, a program Jessica Lynch started for patients at WVU Children's Hospital.
"I know how important it was for me when I was in the hospital for so long to have soothing, comforting things," she said.
Kindred Communications also donated $500 to Jessi's Pals on Thursday.