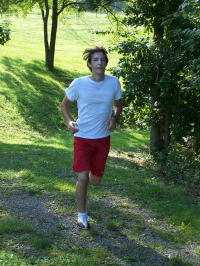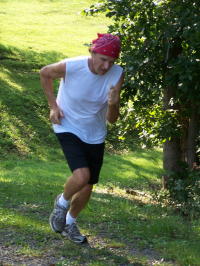 Zack Hanshaw (left) came in first, with
Calhouner Tom McColley right behind
The Hotter Than Heck Run at Calhoun Park was held before the heat of the day last Saturday, just to give the runners a little break.
Leading the pack was Zack Hanshaw and Tom McColley.
This is the fourth race in the Calhoun Cup Series.
Prior to the run, Brian Taylor led among men runners while Monica Heiney is the leader among women runners.
Mark Rooper is the leading walker and Connie McColley the leader among women walkers.
Last year Calhoun cross country standouts Justin Gerwig and Anna Sampson captured the Hotter Than Heck Run.
Sampson is now at West Virginia University while Gerwig is a member of the Calhoun football team. Gerwig was 12th in the LKC last year and competed at the state meet.