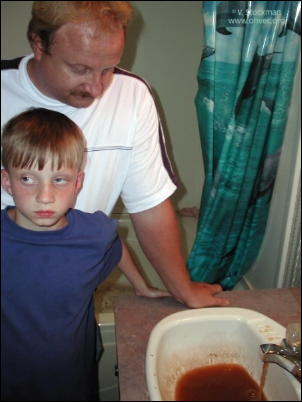 Household water burns skin on contact in southern West Virginia
Clean water is finally on its way to the Boone County town of Prenter.
Gov. Joe Manchin will attend the groundbreaking for a West Virginia American Water's new line that is expected to supply 155 households by March, 2010.
The $2.2 million project is funded by a federal Small Cities Block Grant, the Boone County Commission and the water company.
Residents of Prenter and Seth are suing eight coal companies they claim poisoned their wells by pumping coal slurry into old underground mines.
The coal companies say they have not caused the problem.
A long-delayed slurry study by WV's EPA has been inconclusive.
Residents have been hauling clean water home from a pay station at a local church.
Some families rely on free fill-ups of 50-gallon barrels they have at their homes.
See related stories UNQUIET EARTH: MINGO JUDGE HEARING 700 COAL SLURRY CASES - "We're Just A Bunch Of Dumb Hillbillies"">