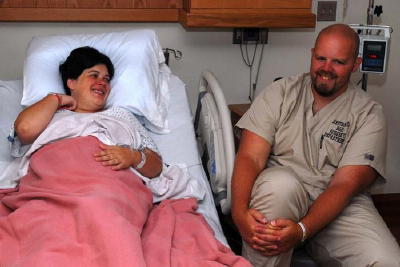 Paul and Brandi Williams are the proud parents of a baby
boy, Isaiah Michael Williams, who was the last baby born at
Roane General Hospital. After months of preparation, the
hospital is closing its obstetrics unit at the end of July.
(Photo by Lawrence Pierce)
OB unit's closure expected to increase deliveries in Charleston, Parkersburg
By Kathryn Gregory
Staff writer
www.wvgazette.com
Spencer, W.Va. - Isaiah Michael Williams took his first breath at 9:32 a.m. Saturday and went down in Roane County history as the last baby to be delivered at Roane General Hospital. After months of preparation, the obstetrics unit at the rural hospital in Spencer is shutting its delivery wing doors and will no longer be delivering babies in the county.
Hospital administrators made the decision because of a decrease in the number of births in the last few years and the increasing age of the population.
Isaiah, who weighed 9 pounds, 4 ounces and was 22 inches long, was the first child for parents Paul and Brandi Williams, a young couple who have been married for three years.
Brandi spent more than 16 hours in labor and had to deliver her baby boy by Cesarean section at the last minute because doctors said he was too big for a natural birth.
"I was a little nervous when they brought her into the OR because it would be that much longer before I saw her, but I knew it'd be OK," Paul said. "From what we've been told about how it should go, everything went smoothly."
As for their young son, who was the only baby in the nursery Saturday morning, being the last baby born at the hospital in their county, "It's different but nice," Brandi said. "We're just happy that we're having him."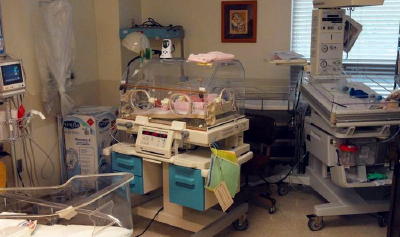 Michael Williams was born at Roane General Hospital at 9:32
a.m. Saturday. He spent the first few hours of his life as
the only baby in the small nursery. (Photo by Lawrence Pierce)
The Williamses worked with Dr. Carroll Christiansen and certified nurse midwife Susan Cheek at Family Health Care in Spencer for all of their prenatal care before the big day.
For 25 years, deliveries have been provided through a partnership with the OB/GYN doctors and midwives from Family Health Care, who work and deliver babies within the obstetrics wing of Roane General.
Dr. Christiansen, who has been delivering babies there since 1983, plans to keep his obstetrics unit at Family Health Care open and offer prenatal and gynecological care for women who wish to remain patients in the county. However, they'll have to travel to other area hospitals to deliver their children.
"The hospital may be closing their obstetrics unit, but our practice will continue to do the same thing," Cheek said. "It may actually be better."
Some people who get medical care in cities such as Charleston and Parkersburg have to wait a long time to see a physician or get care, she said.
"We're small, so patients don't wait a long time to see us," Cheek said. "They can get one-on-one care with us, and then go to the Mecca for delivery."
Family Health Care will be partnering with Family Care in Charleston, another certified midwives location, and two private practices in Parkersburg that will "allow mothers to do the birth how they want to," Cheek said.
For the mothers who choose to get care in Charleston, many of those babies will be delivered at CAMC Women & Children's Hospital.
Doctors delivered more than 3,150 babies at Women & Children's and 1,350 babies at Camden-Clark Memorial Hospital in Parkersburg in 2008. Hospital staff in Charleston are positive that they can meet the demands of mothers-to-be traveling from Roane County.
"We are prepared to assist patients and meet their obstetric needs," said Dale Witte, spokesman for CAMC hospitals. "We're looking forward to helping."
Closing the department was a hard decision for many of the people involved, but the hospital couldn't justify keeping the wing open when the demand wasn't there.
Among the 30 other hospitals in West Virginia, all but two had 150 or more deliveries in 2008. Only 98 babies were delivered in Roane County in 2008, down from a peak of 189 in 1991.
"Recent declines in total births in the area and increasing demands on our resources have led us to the decision to close the Obstetrics Department," said Douglas Bentz, chief executive officer of Roane General.
Hospital physicians and clinicians predict that almost 50 percent of deliveries that would be in Roane General Hospital's service area are taking place at other hospitals, he said.
It also has become increasingly difficult for rural hospitals like Roane General to attract sub-specialty physicians, such as general women's care doctors who also do deliveries.
During July, only Cheek and Christiansen worked to deliver babies for the hospital and for Family Health Care in Spencer. Dr. Christiansen was on call 24 hours a day to provide assistance to all women in the obstetrics unit during the last month, Bentz said.
"He really deserves an immense amount of credit," he said.
While this may have been a temporary solution to the declining staff within the unit, it could not be a permanent fix.
"We could not have continued delivering babies as long as we have without him. Deliveries might have ended four or five years ago if not for the dedication of Dr. Christiansen," said Dick Bowlby, chairman of the hospital board of directors.
Reach Kathryn Gregory at kathryn@wvgazette.com or 304-348-5119.