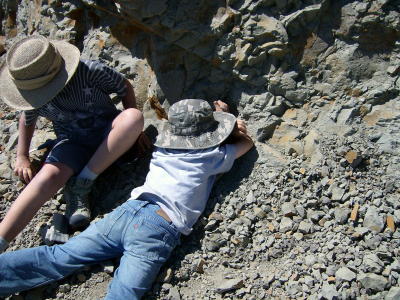 Seven-year-old Zach Yoak (wearing camo hat)
works to extricate Triceratops rib bone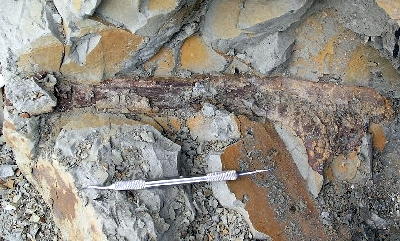 About one foot of the length of the bone exposed
Dinosaur enthusiast Zachary Yoak recently returned home from a successful paleontological dig in the Badlands of Montana.
Zach traveled to Jordan, Montana with his family and participated in a genuine scientific dig in the famed Hell Creek formation, responsible for producing the world's first Tyrannosaurus Rex skeleton discovered by Dr. Barnum Brown in 1902.
The Yoak family spent three days at the Tim and Judy Lervick homestead, also known as base camp. Each morning, the dig crew took a 20 minute ride to the dig site, passing the site of Dr. Brown's historic T. Rex discovery along the way.
The crew spent the day digging in the "Babyback" site and prospecting for new dig sites. The kids on the crew really seemed to enjoy prospecting because they were allowed to keep any small bone chunks they found.
During the third day of digging, Zachary, age 7, discovered a Triceratops rib bone. He and his dad worked diligently with dental tools and a screwdriver to extricate the bone. By the end of the day, about one foot of the length of the bone was exposed.
In addition to Zachary's discovery, the Yoak family found a tooth, possibly from a T. Rex, and several plant fossils. Noah Yoak, age 4, found lots of Cretaceous period plant fossils, bone chunks, pieces of turtle shells, and fish scales.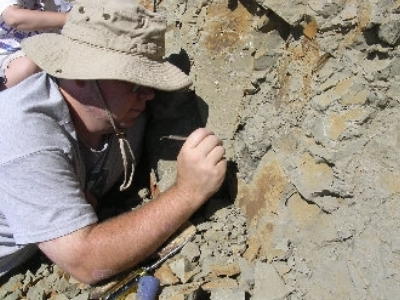 Zach's father, Taz Yoak helps with the
dig using dental tools and a screwdriver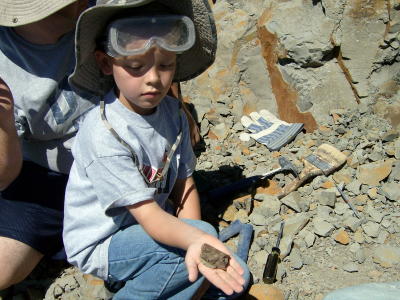 Zach holds a chunk of the bone broken off during the dig
The dig experience was made possible by PaleoWorld Research Foundation. PaleoWorld's mission is to bring "real science to regular people." Jessica Martin, a graduate student from Tampa, Florida, has been leading the digs for PaleoWorld for the past two summers.
Jessica explained that 65 million years ago, the Hell Creek area of Montana was much like today's Florida Everglades. She taught the crew how to use the dig tools, provided some history of the area, and gave the kids a hands-on look at some of the fossils found by PaleoWorld dig crews over the years.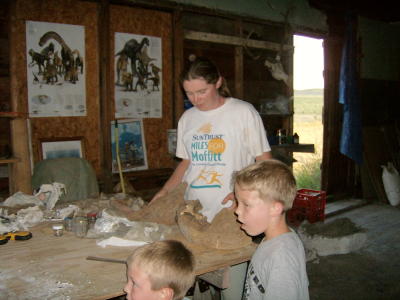 Dig leader Jessica Martin with Zach and Noah Yoak
Families are encouraged to "dig for a day or stay the entire summer." For more information, you can visit PaleoWorld's website at www.paleoworld.org
Zachary and Noah are the sons of Taz and Randa Yoak of Elizabeth, West Virginia and attend Wirt County Primary Center. Zachary will be in the second grade and Noah will start Kindergarten.