West Virginia State Police in Wirt County say there have been two accidents involving ATV Poker Runs this summer.

A series of events at the Creston Poker Run Saturday reads like a comedy of errors, ending with injury.

State Police said Shawn Martin of Elizabeth was part of the event.

He was driving behind a car near the intersection of Richardsonville and Little Creek Roads.

Police said the driver of the car, Gene McAlarney, of Whipple told them Martin was goofing around.

Authorities said McAlarney stopped the car to confront him and Martin swerved, flipping his ATV.

Wirt authorities said, "Martin and his passenger were cited for public intoxication."

The incident then worsened, the two drivers started fighting and McAlarney was cited for battery.

Police said an ATV driver following Martin stopped to help.

"Mr. Martin attempted to start the four wheeler, the throttle got stuck and lunged into Mr. Barrett and knocked him over the guard rail of the bridge," said Wirt State Police.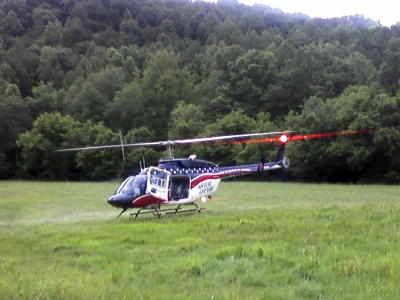 Chopper in Cooper's field preparing to remove injured man
Ryan Barrett of Vincent Ohio was taken to an area hospital by chopper, he's now listed in fair condition.
Organizers of the Creston Poker Run said it's a safe family fun event and that a few people give it a bad name.
Sergeant Nichols of the State Police said alcohol is sometimes a factor and it was present Saturday.
Organizers said there is a posted sign that reads alcohol is not permitted at the poker run, but it is operated on the honor system.