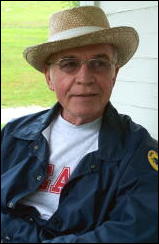 Ronald Joe Wilt, 65, of Pleasant Hill, Calhoun County, West Virginia, passed away Friday, June 26, 2009.

Wilt, the only son of the late Ernest and Susan Wilt spent his childhood around Pleasant Hill, graduating from Calhoun County High School in 1961.

Following graduation from college, he is best remembered in Calhoun for the eleven years he spent as a band and chorus director at Calhoun High School, and as creator of "The Follies."

By the time he left the county in 1977, Wilt managed to bring out the best of Calhoun kids. "The Follies," became a three-day event involving several hundred students and drawing a huge crowd of supporters, both locally and from around the state.

While working on his doctorate from West Virginia University, Joe traveled to Key West, Florida where he served as musical director for the Green St. Theatre. He later returned to Key West to work as musical director for the Tennessee Williams Fine Arts Center and accepted the job as Key West High School Choir Director in 1981.

He continued to work on many musical productions with his long time friends, Mimi and Gary McDonald, who manage the Red Barn Theatre in Key West. Gary McDonald was honored to play drums along side Joe for twenty years for the high school choir.

Wilt's decision to leave Key west and return to West Virginia after a 25 year career as a teacher and musician was difficult, particularly after the city officially declared "Joe Wilt Day" every May, naming him the "Ambassador of Music."

He was named south Florida's Teacher of the Year in 1986.

A final salute to Wilt drew over 1000 to Key West High School's $8 million auditorium with standing room only. He had taught four different high school chorus groups.

"There was not a dry eye in the house," commented an associate of Wilt, "He left his mark on the lives of many, young and old.

Key West's mayor recognized Wilt as a man of enormous talent, but even more importantly, his dedication to bring music to the hearts and souls of his students and people around him.

Funeral services will be held 6 p.m. Thursday, July 2 at Stump Funeral Home, Grantsville, WV where friends may call from 4 p.m. until time of services. Rev. Lorous Roberts will officiate. Interment will be in the Pleasant Hill Cemetery.

A celebration of his life will be held Friday, July 3. See A Celebration of Life for Joe Wilt for complete details.