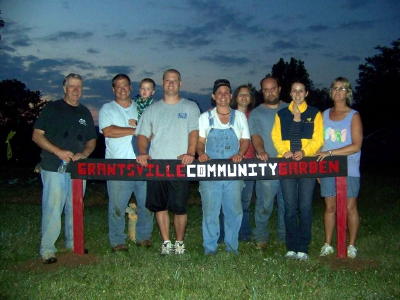 Volunteers (L-R) Larry Stinn, Jim Garretson, Turner
Garretson, Extension Agent Curtis Garretson, Extension
Agent Brandy Brabham, WVU-ES Master Gardener Cathy Flashman,
Chris Keener, Kristen Garretson, and Connie Schoolcraft
Not pictured were WVU-ES Master Gardener Trainee
Linn Williams, Dave Tripett, and Johnathan Bissonnette
By Brandy E. Brabham
Extension Agent
Roane & Calhoun Counties
Community volunteers held a work day Saturday, June 13 at the Grantsville Community Garden.
The group constructed electric fence around the garden areas, mowed the fence perimeter and erected the garden sign during the work day.
Applications are still available for a fall garden plot. For more information contact the WVU Extension Office at 304-354-6332.
To make a donation to the Grantsville Community Garden contact the Calhoun County Family Resource Network at 354-7177.
Grantsville Community Garden Coordinators would like to thank the following donors for making the materials for the fencing and sign possible, RPR Industries, Lions Club, Loren B. Howley, Attorney at Law, City of Grantsville, the Calhoun County Middle High School's Forestry 2 class, Don Poage, and Diane Ludwig.