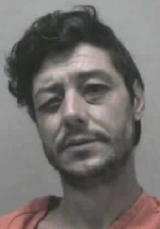 A Letherbark man was arrested Monday night on multiple charges following a 911 call regarding problems with a man trespassing on a bicycle.

The Calhoun Sheriff's Department responded to US 33-119 near Stump Funeral Home, Arnoldsburg.

Michael Joe Mace, 48, who has a history of mental illness, was charged by Deputy Jeff Starcher with trespassing, obstructing an officer and fleeing on foot.

Mace, who has previous arrests after becoming confrontational with law enforcement, was reportedly subdued by chemical mace, after which he was treated by personnel from Calhoun EMS.

He is being held in Central Regional Jail on $3,000 bond.

The Calhoun Sheriff's Department and Calhoun EMS responded to a 911 call Tuesday afternoon after residents reported "a bloody man" walking along US 33-119 at Millstone.

The Cleveland Tennessee man, who was walking with a back pack, reportedly self-inflicted lacerations to his upper body. He was taken to Minnie Hamilton Health System for evaluation.