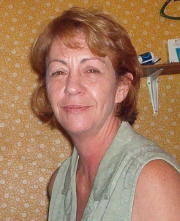 By Janet Siers
304-655-7254
countrymebe@yahoo.com

Buddy Watkins and I drove up Walker Creek road and stopped to visit with Mildred Carter and her sons Steve and Byran. She gave me some fire bushes. Mother used to grow these when I was little. I like them and they turn red when mature. We had a nice visit. Lots of blackberries growing this year.

Doy Hannah plowed Buddy's garden Monday evening and it looks wonderful. He has new potatoes, lettuce, onions and lots more that's ready to eat. He planted potatoes in March. We went fishing in Joe's pond on Sunday afternoon. We had a nice time, it was a little warm that afternoon, we still caught fish.

Charles Haverty stopped by to visit with me. He has been in Florida visiting with his daughter and grandchildren in Ft. Lauderdale. Charles took his granddaughter to dance classes. She's a pretty thing. Charles is glad to get back home.

I enjoyed visiting with Wanda Richards, her daughters Genie and Kim and grandchild Ariah. Kim made beer-but chicken on the grill. Never heard of that before. It was good.

Blaine King is doing well but is unable to mow grass because of his allergies. He is looking forward to attending his son Kenny's wedding in Fairmont on July 17.

Heather her husband Ben and the girls went camping at the lake in Summersville on Monday. The water is fine and the little girls love it. They have a two room tent. Family size.

Monday morning I discovered a stray cat on the porch. It was in bad shape. It looked flat. I don't know what happened. Poor thing was breathing but wouldn't blink its eyes. I tried to help it by spooning some water in its mouth. It lasted until 7:00 that evening. I hate it when things like this happens.

Clean your hummingbird feeders about once a week. According to the National Audubon Society, this should be done by rinsing with one part white vinegar to four parts water. If the feeder is dirty try a few grains of dry rice to the vinegar solution to help scrub it clean. follow the vinegar wash by rinsing three times with clear warm water before refilling.

Everyone have a wonderful week!