An Elkview woman is charged with first-degree murder after she walked into CAMC Memorial Hospital today and allegedly shot her estranged husband.

He was in the third-floor intensive care unit.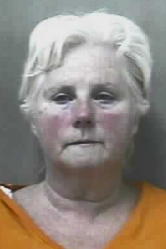 Police say Rhonda Kay Stewart, 53 (left) walked into her husband's room about 2 p.m. with a handgun and shot him in the head.
A criminal complaint reveals Rhonda Stewart went to visit her husband with an argument breaking out. Hospital staff asked Stewart to leave.
She later returned to the hospital and shot him, walking out of the room handing the gun to a doctor. She was quickly arrested.
She covered her face with tissues and was crying uncontrollably while being led away by police, saying "I'm so sorry. Oh God, oh God, oh God."
The Charleston Gazette reported chaos at CAMC, as several police cruisers sat outside the main entrance of the hospital and police were seen carrying rifles in the hospital.
Police rushed into the building with guns drawn, reported the Gazette.
Angie Eggleton of Hurricane who was visiting her grandmother said she heard a "pop" and saw a woman come out of a room a few doors down and collapse against the wall sobbing.
A nurse told everyone to get out of the wing.
CAMC spokesman Dale Witte released a statement, saying, "This is an unfortunate and tragic event. CAMC is cooperating fully with Charleston Police. CAMC will not be making any further statements regarding this situation."
LINCOLN COUNTY BOY SHOT IN FACE
A Big Ugly, Lincoln County boy is in ICU in a Huntington Hospital Saturday after being shot in the face.
It happened around 3:30 p.m. at a home in Big Ugly.
Police are saying the boy walked into the house while someone was showing a gun.
It accidentally discharged and hit the boy in the face.
His name has not been released.