Calhoun's E-911 Director Gary Buchanan is resigning from the position, effective July 1.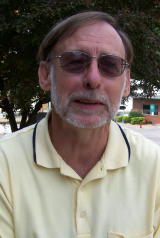 Buchanan (left) has held the job for over two years, primarily focusing on the completion of E-911 addressing and mapping.
He will continue to be the county's Flood Plain Coordinator and will be working on a part-time basis wrapping up the addressing and mapping project.
Calhoun's new E-911/OES Director Kathy Wood will assume the duties on July 1.
The addressing and mapping project, at least Calhoun's part, has been completed for some time and has been submitted to the Statewide Addressing and Mapping Board.
While certain parts of the county have been approved, the state agency is working through a backlog of projects, with Calhoun waiting for approval to move forward.
Jimmy Gianato, chairman of the Statewide Addressing and Mapping Board, told Calhoun commissioners "I wish to take this opportunity to let you know that your county was one of the counties that submitted completed data to the board."
Buchanan said some of the challenges of the addressing project have been because Calhoun has nearly 600 miles of rural roads, many of them sparsely populated.
"It's not easy to identify which structure is connected to which rural route box number," Buchanan said, "You learn how to deal with many different agencies to get the job done."
Buchanan expressed gratitude to postmasters and rural carriers, the E-911 advisory board and county commissioners for their support.
"It was a really good experience working with Calhoun citizens," he concluded, learning the primary purpose of the E-911 system is to get help to them at time of need.