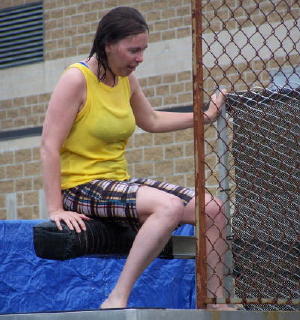 Submitted by Kirby, Principal
Calhoun Middle-High School
The middle school students received a challenge second semester this year. Which homeroom can read the most books? The reward . . . dunk the principal. Mrs. Minney's 5th grade homeroom won and on Monday, June 1st the students got their chance.
Mrs. Kirby, Principal, Mrs. Wade and Mrs. Whytsell, Assistant Principals, each took a turn on the dunking booth and each got wet. All the middle school students reported to the back parking lot and helped cheer on the winners and laugh at the wet administrators.
The school would like to thank Mrs. Angela Dye for coming each week and listening to the students report on their books. Mrs. Dye was a great volunteer and a big help in making this program a success.
Several students have started talking about next year and they plan to win this competition. It sounds like Mrs. Dye will need some additional help and the principals need to pray for hot weather.
We would also like to thank the Grantsville Volunteer Fire Department for the use of the dunking booth.