Long-time Calhoun educator Bob Bonar has been selected as the new principal at Pleasant Hill Elementary School, replacing Jacqueline Dawson.

The motion to hire Bonar was 4-1, with board president Cynthia Dale opposing.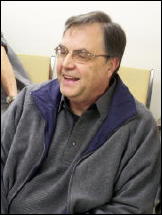 Bonar (pictured right) has been a long-time teacher in the county, and has previously served in school administration. He is also president of the Calhoun Historical Society.
Superintendent Roger Propst announced recognition given at the Employee Recognition Ceremony.
Teacher of the Year is Amy Fitzwater.
Service Personnel of the Year is Cheryl Jarvis.
The local board will interview candidates on July 1 to fill a vacancy created by the resignation of board member Mike Wilson.
Wilson expressed his gratitude for "having the pleasure of serving with each of them during his tenure and that he hopes to serve with them in the future."
Board members thanked Wilson for the opportunity to serve with him.
The regular meeting is scheduled for July 6.
See complete minutes of the June 8 meeting