CASH REQUESTED LIE DETECTOR TEST - PASSING IT
By Bob Weaver
A former Calhoun man who was arrested on drug charges resulting from the investigation of the murders of Mike and Julie Flanagan on Easter weekend has been cleared.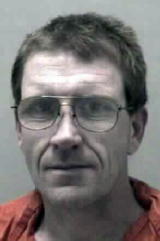 Calhoun Prosecutor Shelly DeMarino said John Franklin Cash, 38, (pictured left) of Elizabeth is "No longer a suspect in the murder investigation."
Cash's arrest, according to the State Police's criminal complaint, had linked him as being a suspect in the murders.
DeMarino made her comment in open court during a bond reduction hearing.
Cash was being held on $105,000 bond on several drug charges.
While the bond was not reduced, the court allowed Cash to be released from Central Regional Jail on a personal recognizance bond.
State Trooper F. L. Hammack of the Spencer Detachment, who is a lead investigator in the double homicide, arrested Cash on seven charges of delivering a controlled substance.
The officer apparently obtained statements from several Calhoun and Roane residents who allegedly purchased drugs from Cash, the individuals likely agreeing to testify against Cash.
State Police have yet to release information regarding a motive for the double murders, nor have they given an update to state media on the investigation.
Trooper Hammack said in the criminal complaint against Cash, he was arrested on the drug charges as a result of a statement made (about the murders) by an unidentified person during the police's murder investigation.
That person, says Hammack, claims Cash made statements that suggested he (Cash) may have been involved in the murders, according to the complaint.
Hammack said the investigation led him to Laurel, Mississippi, where he and Sgt. T. C. Bledsoe interviewed several subjects.
Hammack said, "One such subject was Tauren Ray, also known as "T", who stated that he, John Cash, and Michael Pierce traveled to Calhoun County to sell marijuana that John had to get rid of."
"Mr. (Tauren) Ray stated that Mr. Cash left he (Ray) and Mr. (Michael) Pierce at the Grandview Motel in Spencer for several days," Hammack continued.
At this juncture in the complaint, Trooper Hammack describes drug buying incidents and names a number of Calhoun-Roane residents who gave statements to the State Police, saying they purchased marijuana and meth from John Cash.
While still in Mississippi, Cash asked to be given a lie detector test to help prove he was not involved in the West Virginia murders.
Although he passed the test, he was brought back to WV by Trooper Hammack on the drug charges.
Since Cash's arrest on drug charges, rumors have been rampant that he was connected to the murder.
MOTIVE NOT DISCLOSED IN FLANAGAN MURDERS
DOUBLE HOMICIDE INVESTIGATION LEADS TO DRUG ARREST - Cash "May Have Been Involved" In Calhoun Murders, Says State Police Complaint
FEAR GRIPS CALHOUN COMMUNITY FOLLOWING DOUBLE HOMICIDE
TWO CALHOUN RESIDENTS SHOT ON SYCAMORE CREEK