By Bob Weaver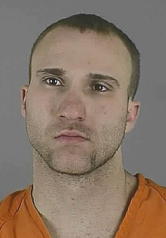 Twenty-year-old Darin Stephen McClain (left) of Parma, Ohio, who was arrested for the daytime robbery of Calhoun Banks last December in Arnoldsburg, has pled guilty to one count of unarmed bank robbery.
Calhoun Prosecutor Shelly DeMarino said McClain has been charged by federal authorities.
Because of the federal status of the case, McClain was not extradited to Calhoun County.
He will be sentenced in July.
McClain had earlier been arrested on multiple drug charges.
McClain got away with about $16,000, but Akron police indicated some of the money was recovered.
McClain went into Speedy Mart in Arnoldsburg requesting the cost of cigarettes, according to store employees, after which he walked to the nearby bank.
He was caught on video surveillance cameras at both businesses.
West Virginia State Police in Grantsville did not issue photos of the bank robber nor reveal his identity to the public.
The criminal complaint says McClain "handed a teller...a note, which stated the demand for monies. This note also stated that the defendant had a gun and would kill the bank teller if the demands...were not met."
The bank teller complied with the demands of the note, "where the defendant further threatened the teller's life, expressing that the teller would have 30 seconds to comply or be killed."
The complaint says "identifying information was obtained by video, by the driver of the vehicle transporting the defendant to and from the bank location."
McClain was "also identified from photographs by persons knowing his identity and having contact with the defendant prior to and after the commission of this crime."
Police towed a van from the Arnoldsburg area following the robbery, a vehicle likely used in some manner in the robbery. That van was later released and returned to an Arnoldsburg resident.
Sources have indicated McClain was visiting with acquaintances in the Arnoldsburg area when he committed the robbery.
POLICE COMPLAINT SAYS "HIDE OUT" ARRANGED FOR BANK ROBBER - Calhoun Men Held For Accessory To Crime
BANK ROBBER GETS OVER $15,000 FROM CALHOUN BANK - Teller's Life Threatened
CALHOUN MEN ARRESTED FOR INVOLVEMENT IN ARNOLDSBURG BANK ROBBERY