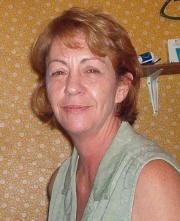 By Janet Siers
304-655-7254
countrymebe@yahoo.com

Linda Parsons whom I went to Minnora Grade School with a long time ago called me. She now lives in the Seattle Washington area. Linda has had her 25th wedding anniversary. She, like a lot of people outside West Virginia are keeping up with their roots reading the Chloe News. She sounded good. We haven't seen or heard of each other since elementary days. I'm thankful that you called me Linda.

I few weeks ago I was fortunate to see a cow going up route 16 toward Chloe. Never seen that here before. I called John's Chloe Auto & Hardware to let him know that a cow was on it's way. Later he told me the cow never made it. Another mystery unsolved.

Blaine King feeds cats and chickens in the barn at the Denver Chenoweth place. Seem that there are little Barn Sparrows there also. One day when he walked in to feed the rooster cracked corn there was around 20-25 of them eating all around the rooster. Also there at the farm the black 3 year old horse had been crawling under the bridge getting out of the field. He had to build a fence at the bridge to keep him in.

I'm sorry that I forgot to mention Richard Brown, Betty and Carolyn's brother attended the family reunion here at Daddy's. He was riding a new BMW motorcycle. I haven't seen him in so long I didn't know who he was. He's looking good.

June 7 was the Full Strawberry Moon. The Algonquin tribes knew this moon as a time to gather ripening strawberries. It is also known as the Rose Moon and the Hot Moon. I've eaten ripe strawberries from Buddy Watkins garden weeks ago. Buddy sure has a beautiful garden and is working in it all the time. He's got everything you could possibly plant there.

You can plant forsythia now, but you won't see blooms until next spring, keep shrubs well watered, you should be all set. The root system will have a good start before winter months. Pruning is an option more than a requirement, but it does encourage bushier growth. One advantage of forsythia is that they let you know when its time to plant other early crops.

Heather, Ben and the babies visited with me. I love spending time with the girl's Ruby and Lea. Lea has been walking for a good while now. It's cute to see such a short little fella walking. She moves fast.

Joe broke his wrist on April 17th and the doctor released him and said he could use it cautiously. I'm glad he healed quickly, it is amazing with having two pins and a metal plate.

Everyone have a wonderful week!