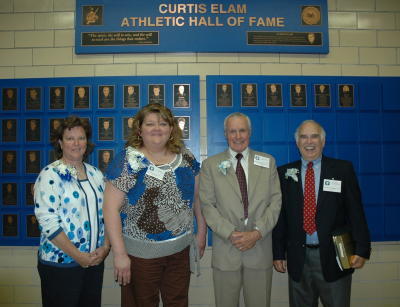 2009 GSC Curtis Elam Hall of Fame Inductees (L-R) Tina
Burkhamer-Cunningham, Kim Creel, Tom Gunnoe, Larry
'Doc' Stanley. Not pictured is inductee Larry Chapman
Submitted by Bob Edwards
Public Relations Dept. Asst.
Glenville State College
Glenville, WV - The Glenville State College Curtis Elam Athletic Hall of Fame has five new members. Larry 'Doc' Stanley, Tom Gunnoe, Larry Chapman, Tina Burkhamer-Cunningham, and Kim Creel are the inductees in the class of 2009. The induction ceremony and banquet were held on Saturday, May 16th in the Mollohan Campus Community Center Ballroom. The Curtis Elam Hall of Fame was established in May of 2001 through the generosity of Curtis Elam, a 1949 graduate of Glenville State College.
Larry 'Doc' Stanley, a native of Belle and a standout athlete at Dupont High School was presented by his former coach and 2001 Inaugural Hall of Fame Inductee Bob 'Hooks' Hardman. 'Doc' graduated from Glenville State College in 1959 lettering in football (4 years), basketball (2 years), and track (1 year). A running back for the Pioneers, 'Doc' was the leading scorer in 1956; an ALL WVIAC Performer in 1956 and 1957; ALL WVIAC in 1958; and the top rusher on the 1958 Undefeated WVIAC Championship Team (6-0-1). "I had no intentions of going to college. But I found my way to Glenville State College and I truly cherish my time as a Pioneer," said Stanley. Larry enjoyed much success in his 40 year career with ConAgra Foods, Cincinnati, Ohio, where he served as the company's National Sales Manager during the last ten years of his career.
Now retired, Larry continues to be very active in sports, playing in two senior softball leagues every week, all year around and he is the manager/player on one of these teams. Larry and his wife, Delores, will observe their 50th wedding anniversary on December 11th. They reside in Cincinnati, OH and are parents of two children. Jeff, the oldest, graduated in 1985 from Bowling Green State College in Ohio and is self employed, working with computer hardware/ICS systems and Laura, who graduated from Eastern Kentucky in 1990, is employed as a fireman paramedic in Northern, Kentucky. The Stanley's have five grandchildren.
Inductee Tom Gunnoe, a native of East Bank, West Virginia, told the crowd that "Once a Pioneer, always a Pioneer. GSC calls us back home no matter how far we go." He graduated from Glenville State College in 1964 lettering in football (4 years), basketball (2 years), and baseball (1 year). Gunnoe was ALL WVIAC in 1961; Second Team ALL WVIAC - Offense in 1961 (Running Back); First Team ALL WVIAC - Offense in 1962 and 1963 (Running Back); First Team ALL WVIAC - Defense in 1963 (Corner Back); Captain of the 1963 Football team; a member of the ALL WVIAC team; and an ALL American in 1963. Additionally, he played on the ALL Opponent Team (Westminster, PA).
Tom received a masters degree in guidance and counseling from WVU in 1971, taught and coached for a couple of years in Kanawha County, and then played with the Charleston Rockets - Continental League (1964-1966) and the Cleveland Browns - National Football League (1966-1968) before beginning a long career in administration with the West Virginia Department of Health and Human Resources (1968-2002). He was awarded the Distinguished West Virginian Award at the time of his retirement. Tom and his wife of 45 years, Linda, reside in St. Albans with their daughter, Tonya Renae Gunnoe. Their son, Dr. Thomas Brent Gunnoe, and daughter-in-law, Trecia Bruffy Gunnoe, reside in Palmyra, VA with their daughter, Leah Marie Gunnoe. Former GSC Head Baseball Coach and Assistant Football Coach Bill Douglas presented Gunnoe to the Hall of Fame.
Due to a serious family illness, Larry Chapman, a 1974 graduate was unable to attend his Hall of Fame induction. Presenter Bill Hanlin, 2001 Inaugural Hall of Fame Inductee and former GSC Head Football Coach, thanked everyone on Chapman's behalf. Chapman is a native of Weston, West Virginia. He competed in football for the Glenville Pioneers during Head Football Coach Bill Hanlin's era when the 1973 football team was undefeated in the WVIAC regular season (9-0). The team lost one playoff game before going on to become second runner up nationally. Chapman was ALL WVIAC in 1973; Second Team NAIA ALL American in 1973; and an Offensive Lineman on the 1973 NAIA Runner-Up Team.
Larry taught in Calhoun and Preston County schools for seven years after graduating from Glenville State College before pursuing a career with Equitable Gas (now EQT Midstream) as a Safety Director. He currently serves as Manager of Technical Training for the company and travels extensively in his job. Chapman is a member of the American Society of Mechanical Engineers and the American Society for Training and Development. Larry and his wife, Suzzanne '74 reside in Lost Creek. They are parents of two children, Satsha Chapman Poling of Anmore, West Virginia, and Mason Chapman of Orlando, Florida.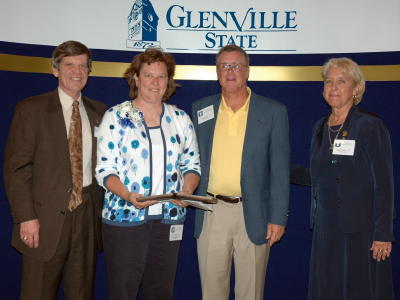 Pictured (L-R) GSC President Dr. Peter Barr, Hall of Fame
inductee Tina Burkhamer-Cunningham, Former GSC Women's
Basketball Coach Tim Carney, GSC Athletic Director Janet Bailey
Tina Burkhamer-Cunningham, a native of Linn, West Virginia, was inducted into the Hall of Fame for her accomplishments as a member of the Pioneer basketball and volleyball teams. She graduated from Glenville State College in 1987. Versatile and noted for her deadly jump shot, Tina was First Team ALL Tournament in 1985 and 1986; Second Team ALL WVIAC in 1985; First Team ALL WVIAC in 1986; Team Scoring Leader in 1985 and 1986; and Career Average Scoring Leader in 1986. Additionally, Tina was co-captain of her basketball team in 1985-1986 and received the prestigious Clarissa Williams Award in 1987.
"All I ever dreamed about was playing basketball, and thanks to Glenville State College my dreams came true," said Burkhamer-Cunningham. After graduating from GSC, she served as the College's Sports Information Director from 1987-1992; Assistant Women's Basketball Coach from 1987-1991; and as Co-Volleyball Coach in 1987. Tina and her husband, Greg Cunningham '87, were married in 1987. They reside in Troy with their three sons, Tyler, Austin, and Colby. She was presented for induction by Tim Carney, 2005 Hall of Fame Inductee, former GSC Athletic Director, Women's Basketball Coach and Men's Golf Coach.
Inductee Kim Creel is a native of Ravenswood, West Virginia. She graduated from GSC in 1990. "For me, Glenville State College is about the wonderful, caring people there. My life has been forever been influenced and enriched by many of those people," said Creel. She competed in basketball (4 years), volleyball (2 years), and track (1 year). Kim was Second Team ALL WVIAC in 1988 and 1989 in basketball and was on the first Lady Pioneer Basketball team to advance to the NAIA National Tournament.
Kim received Honorable Mention, ALL WVIAC for Volleyball in 1987; was Second Team ALL WVIAC for Volleyball in 1988; Outstanding Young Woman for Volleyball in 1988; WVIAC Champion for Discus Throwing in 1986; placed second in WVIAC for Shot-Put in 1986; and third in WVIAC for Javelin in 1986. Creel received the prized Clarissa Williams Award in 1990. She is pursuing a master's degree in counseling at Marshall University Graduate College, Charleston, WV. She serves as Executive Director of the Bob Burdette Center in Charleston where she received the "Share the Vision" Community Award in 2002 and continues to secure grants for this operation. Kim and her three children, Marsha, Billie, and Issac, reside in St. Albans. Creel was presented for induction to the Hall of Fame by her sister Crystal Creel.
This year's class of inductees joins forty-nine past individual inductees and one National Champion team (bowling) that have been inducted since 2001. Competitive sports first started at Glenville in 1908 with football and men's basketball. Many other sports were added through the years, these being baseball, wrestling, bowling, golf, track, and cross country. Competitive sports for women began in the mid 70's with women's basketball and volleyball. Others including golf, softball, track, and cross country have been added since that time.
Plaques of all inductees of the Curtis Elam Athletic Hall of Fame are displayed in the lobby of the GSC Physical Education Building.