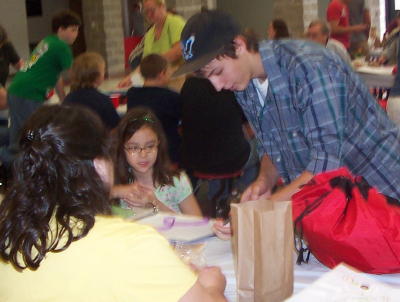 Zach Hanshaw entertaining crowd with magic
Article and photo by Jean Simers
The ninth and last Saturday Fun and Learning Day for this school year was held Saturday, May 9th at Calhoun Middle-High School sponsored by Heads Up and GEAR Up.
Breakfast was served to all attending and the children prepared pancakes for their mother in honor of Mother's Day.
Tony Foreman of 'Families Forward' spoke to the parents about Positive Communication while the children created a special Mother's Day gift.
Edna Robinson also spoke to the parents, discussing the Family Storyteller program held on Monday mornings during the summer program for younger children. The program is conducted by Edna and Grace Richards.
Plans for the May 30th trip to Kennywood were discussed. Currently, there are 270 people registered for the trip. To qualify parents and children had to attend five of the nine Saturday Fun Days during the 2008-2009 school year.
Zach Hanshaw entertained the crowd with magic while they were completing their scrapbooks. Pictures are taken of each child every Saturday with scrap-booking taking place in January and May.
Those winning door prizes were, Tim Somerville - bucket with car washing supplies donated by GEAR Up; Brian Wagoner - watering can, gloves, and seeds donated by GEAR Up. Winning $25 gift certificates donated by Heads Up were, Ricky Bell, Jenny Boggs, Becky Boothe, and Donna Yoak.