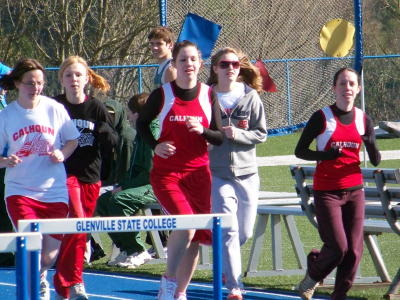 Calhoun team members (left-right) Kendra Lipscomb,
Sierra Motil, Kari Weber, Katlin Collins, Anna Sampson
By Gaylen Duskey
realfang@citlink.net
In the first year of its renewal, Calhoun's track program will be represented at the state Class A meet in Charleston Friday and Saturday by two teams and three individuals.
Individuals representing the Red Devils are Anna Sampson (1600 meter run) Nathan Cosgrove (100 meter dash) and Harold McCumbers (800 meter run). The school will also be represented by the 4x100 meter and 4x200 meter boys relay teams. Members of both relay teams are Daniel Sims, Zach Moore, McCumbers and Cosgrove.
The Red Devils competed in the regionals this past week and finished seventh on both the boys and the girls side.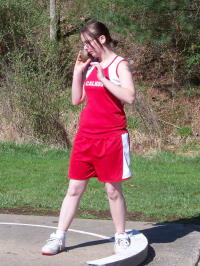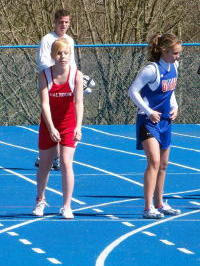 Kendra Lipscomb (left) and Sierra Motil (right in red)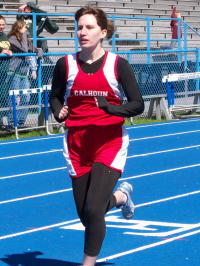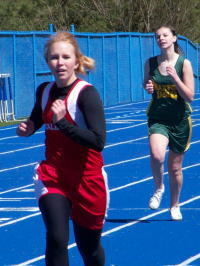 Tracy King (left) and Maria Kisner (right)
The closest event for the day was probably the boys 100 meter dash finals where Calhoun runners finished third, fourth and fifth behind a pair from Buffalo High School.
Buffalo's Corey Goode won the event with a time of 11:89 while his teammate Cameron Jones was second with a time of 11:14. Cosgrove, a freshman, led a trio of Calhoun runners in third place with a time of 11:16. He was followed by Sims at 11:20 and Moore at 11:21.
The top three runners won an automatic bid to the state meet.
Those three Red Devils were joined by McCumbers to post outstanding times in the 4x100 meter relay and the 4x200 meter relay.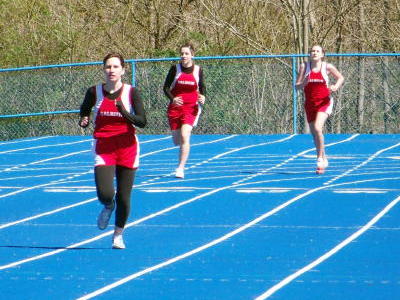 Tracy King (left) Kari Weber (center) and Katlin Collins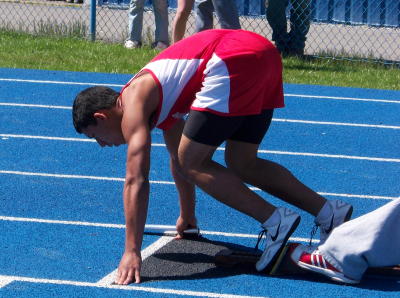 Dan Sims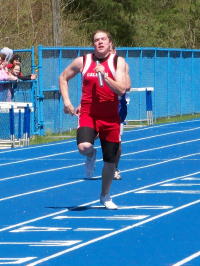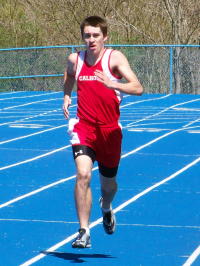 Zac Moore (left) and Harold McCumbers
Calhoun was third in the 4x100 meter relay with a time of 48:61 and fourth in the 4x200 meter relay with a time of 1:37.67.
McCumbers finished fifth in the 800 meters run but his time (2:13.55) was good enough to earn him an invitation to the state meet.
On the girls' side Sampson, who was also a state qualifier in cross country, advanced to the state in the 1600 meter run. She finished fifth in the regional but her time of 6:05.90 was good enough to earn an invitation.
Calhoun has one runner - Cosgrove - competing Friday night when he runs in the 100 meter dash preliminaries. The rest of the team will not compete until Saturday at Laidley Field in Charleston.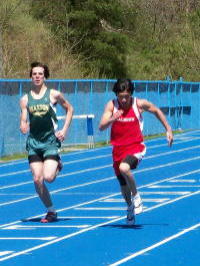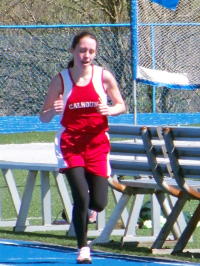 Nathan Cosgrove (left in red) and Anna Sampson