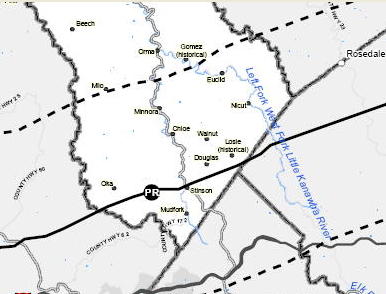 Giant power line map of southern Calhoun shows the black line
of the "proposed route" but dotted lines that denote a 10 mile
wide band where the final location could be, including Clay County.
The Potomac-Appalachian Transmission Highline (PATH) is a 765-kilovolt transmission line extending nearly 280 miles from the Amos Substation in Putnam County to the proposed Kemptown Substation in Frederick County, Maryland. See   pathtransmissionmaps.com
By Bob Weaver
Published May 16, 2009
A major shift has happened with a proposed route for the giant electric transmission line slated to cross Calhoun and the region.
Allegheny Power previously indicated the line would follow a current right-of-way across Calhoun, through Rocksdale, Hur, Grantsville and east to Gilmer County.
Officials had been rather clear at public meetings and in the media what areas the line would cross.
Now the route has been shifted to southern Calhoun, the Chloe, Stinson, Minnora area.
The map shows not just the black line of the "proposed route" but dotted lines that denote a 10 mile wide band, which now affects a portion of Clay County.
Bill Howley, who maintains an opposition blog to the project, says he is doubtful Clay residents will be legally notified in their newspaper that the line could be located in their county, suggesting that all residents concerned must become a registered intervenor.
"If you don't file your petition to intervene within 30 days after notice is given in your newspaper, you will lose your rights in the PSC process," Howley says.
Howley's Powerline Blog, says the final location of the line could be anywhere inside the corridor on the map, or it could even be moved outside the corridor.
The corridor right-of-way now crosses more than 1/3 of the surface area of Braxton and Upshur Counties.
Braxton county residents have expressed little opposition to the line.
The project will supply coal generated electricity to the eastern corridor.
Opponents of the line have a lengthy list of reasons for their opposition, including the costs to West Virginia citizens to build the line and the increased pollution from the John Amos power plant in Putnam County.
West Virginia's air, according to a new survey, is already among the most polluted in the US.
Read earlier Herald stories about the line or see calhounpowerline