Goldie McHenry, the wife of well-remembered Calhoun preacher Gayle McHenry, has died at 97. She recalled her early life in the Village of Hur on a return visit in 2009:

See complete obituary Goldie L. McHenry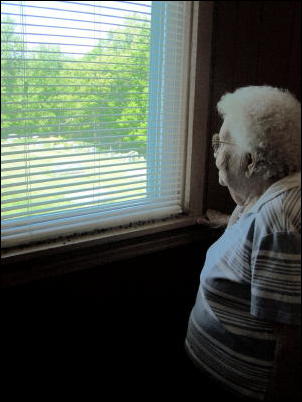 94-year-old Goldie McHenry looks out Hur church
window, recalling life in the village almost 60 years ago
By Bob Weaver 2009
Ninety-four-year old Goldie McHenry, now a resident of Chiefland, Florida, recalled her life in the Village of Hur in the early 1950s during a visit this week.
McHenry visited the fading village, accompanied by her daughters Janet Jenkins and Patty Riffle.
The wife of Methodist pastor Rev. Gayle McHenry said, "Of all the places we have lived, it was a place to which I would have returned. If I could live my life over, it would be at Hur, the people were so kind and helpful."
McHenry spent some time at the Mt. Olive United Methodist Church, now on a short list for closure. It was Rev. McHenry's first pastoral assignment from 1951-1954.
The McHenrys and their four daughters came to Hur not long after the arrival of electricity to live in the tiny parsonage, now gone.
"Gayle was rewarded by his preaching and loved helping farmers put up hay," Goldie said.
She recalled the rural circuit had eight churches at the time, Hur, Cremo, Joker, Stony Point, Mt. Zion, Walnut Grove, Richardson and Phillips Run.
"Can you image trying to pastor all those churches and deliver sermons," Goldie said.
"We always had visitors from other churches attend revival meetings. One of the ladies that attended would get filled with the holy spirit, would shout and throw her song book in the air," recalled Janet McHenry Jenkins.
"One night, close to Christmas, when all the Christians came forward, I noticed she didn't have her song book in hand. Well, as kids we weren't going to be able to watch the song book fly in the air. I bravely walked over and gave her a song book, and sure enough, the book went flying," said Jenkins.
"When we got home, I was in a bit of trouble with dad, who said it was a little too obvious what I had done."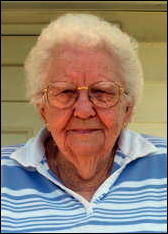 Goldie (pictured left) said she loved her neighbors at Hur, often spending time at their houses, sharing meals and playing cards - the Reynolds, Starchers and McCoys.
The McHenry children would go to Uncle Charley Starcher's store about every day in the summer for a Pepsi, five cents a bottle.
"Jake Kerby had our drinks put on his bill, but other times Uncle Charley knew we were hot and tired from riding bikes and gave it to us," said Jenkins.
"We would usually pour salty peanuts in the bottle," she said.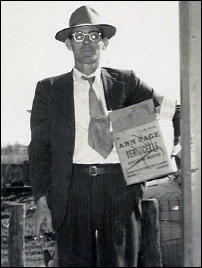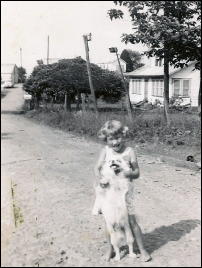 Gayle McHenry the day he was ordained, daughter Cleo with dog
on dusty Hur "street," Mt. Olive Church can be seen at a distance
The Hur telephone switch office was next door to the parsonage. "We practically lived at Eula (Toots) Smith Parker's house, where the switchboard was operated," said Jenkins.
"We would operate the board for her when she had chores or go to the store, 'putting people through' by connecting the lines."
"At that time the lines ran deep into the rural communities from Hur. We had party lines and each home had a different ring, like a long ring and two short rings."
"Of course everyone could hear the ring and listen to the conversation, sometimes joining in or making corrections to the comments."
All of the McHenry family eventually moved to Florida, including daughters Cleo and Ann. Preacher McHenry passed away in 1990.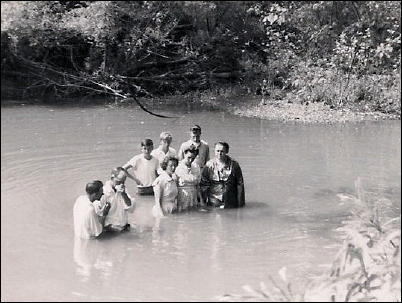 Thirty people were baptized at Cremo in early
1950's, with real "dinner on the ground" after
Goldie continues to quilt, winning blue ribbons at the Florida State Fair. She also goes to exercise class several times a week.
She lamented about the pending closure of the church, looking at a board which said four people had attended the service.
She said "I'll try to hold on to my memories of those better days."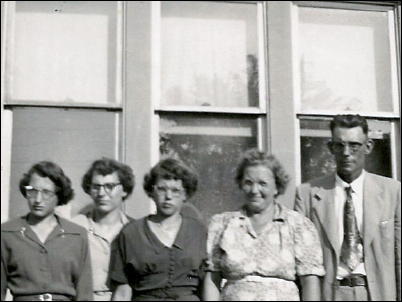 Family at Hur, early 1950's (L to R) Janet, Patty,
Annabelle, mom and dad McHenry (Cleo not shown)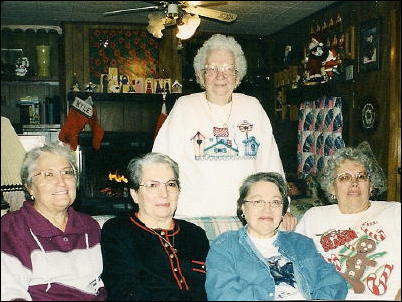 Family in Florida, standing Goldie
(L to R) Janet, Pat, Cleo and Annabel