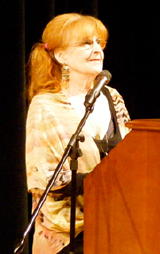 Irene McKinney, who returned to her native West Virginia and served as the state's poet laureate for nearly two decades, has died at the age of 72.

McKinney, who was also the director of the creative writing program at West Virginia Wesleyan College, wrote "lyrical poetry [that] is steeped in the rural Appalachian landscape and frequently explores the connections between people and place," according to her biography on the Poetry Foundation's website.

"She is a great loss to the state of West Virginia," said Buckhannon native and novelist Jayne Anne Phillips. "She made West Virginia real, sensory and important in all its timeless variety, the land, farms, the people and animals, the rituals. She knew the meaning of home place."

McKinney published her first book of poems, "The Girl with the Stone in Her Lap," in 1976.

Her other collections include "The Wasps at the Blue Hexagon" (1984), "Quick Fire and Slow Fire" (1988), "Six O'Clock Mine Report" (1989), "Vivid Companion" (2004) and "Unthinkable: Selected Poems 1976-2004" (2009).

Among her many honors were a National Endowment for the Arts fellowship, and her poems were repeatedly featured on "The Writer's Almanac with Garrison Keillor" on National Public Radio.

MCKINNEY'S PERSONAL TAKE ON THE 21ST CENTURY

With my wages from house-keeping and baby-sitting, my nephew for my older sister Eleanor, I bought some items of clothing: a sweet lavender raincoat in fine soft corduroy with a black velvet collar and a matching hat and umbrella, and two shortie pyjama sets: both in a design of tiny sprigged flowers, one set in blue and one in yellow.

I felt very slinky and sexy in them. The fabric was soft and wispy, and brushed lightly against my skin. But then our old hound dog, Hessy, tore the blue one off the clothesline and chewed it to rags.

This was the only time I ever hit a dog, and I immediately felt remorse and wanted to stop even while I was doing it. I only kept it up because others were watching me, and I wanted them to know how angry I was.

I still had the yellow nightie when I got married a year later, and my husband liked it very much, although it didn't take that much to set him off, anyway.

Our Breasts

In the 1950's, I, like most girls, wore the cone-shaped stiff white bra that presented the breasts as pointy weapons. I had two of these, as I remember, one in the wash, one to wear.

The straps were broken and stretched in the older one, harnessed up with safety-pins, but it fulfilled its pointy function under my blue pilled sweater.

In high school, I did think a lot about clothes, but this was mostly fantasy because we were a poor farm family, and really good clothes were unknown to us.

To this day, I can hardly tell the difference. If a garment is new and bright, it seems good to me. The nuances escape me, or maybe I just don't care. This naiveté, however, does not prevent me from buying and collecting all sorts of odd clothing items.

Red Fingernails

What they signal is not so simple. Women not seducing still wear them. Women who can be mean, women who want to be mean, women who want to be seen as mean.

Or: cute, fanciful, whimsical, campy, a joke - on who? One man told me: nothing is more intense than the sight of a slim hand with red nails.

To scratch your back while thrashing around wildly: but to scratch your eyes out? That borderline: shifting, frightening, hysterical. Those false nails are true weapons of polymer.

Some women who would never wear polish on their fingernails hide it on their toenails. No lipstick, no rouge. Just blatant scarlet toenails.

Who will ever know? Only when they're naked, or in the holiday release of strappy shoes. My addiction? The smell of the ether-like chemical that made me woozy and excited that my nails would soon be red.

Plant Life

I've perched some plants on top of shelves and they exude their wetness onto books and wood, defacing them in order to live. They are alive in ways the books can't duplicate, exactly, although the books try hard, and some come very close, and others, - they're the best, - become a different thing than life, blown up beyond lifesize, illuminated, intense in every way, each day, each minute, unlike our lives which slacken and soften periodically, seem to mean nothing much till Bang! They do.

On Perfume

As a little girl, I was drawn to women's dressing tables where they displayed their prettiest bottles: sparse displays in farm homes: no more than two or three bottles, and a box of Tangee face powder.

There was often the cobalt blue of Evening In Paris, and it was a sweet, subtle scent, faint and volatile at the same time. It cost more than the Murphy's Five and Dime store perfumes, like Blue Waltz's over-sweet violet smell, and Atom Bomb like strong artificial vanilla.

As an adolescent I had no money even for these so I became a shoplifter of items I craved: first, comic books, and later, perfume, science fiction magazines, and lipstick. Without these, I felt, there was no color or excitement in my life.

After I was married, I was free to indulge myself somewhat, at least in comparison to my penniless childhood. My husband got a job and a modest paycheck. He had no objection to perfume and makeup, and seemed to enjoy their effects. But he didn't want me to read.

The Twenty-First Century

It's amazing and frightening being here in the twenty-first century, listening to stories about Jennifer Aniston and George Bush, and all the terrible things, and to have come to the door of the twenty-first century and just run in without asking anybody's permission, and to listen to the talk and see the pictures on the screen.

And to have the chance to grow tired of the e-mails and gadgetry already, because there's nothing I need to say that I can't write down, and duplicating bad movies in various forms doesn't make them any better, and I know just enough that when I look at an electronic device I see oil and money and someone living in a tin hut outside Bangalore, and they and I are pretty much removed from most of the things on offer in the twenty-first century.

I'm sitting here in my broken brown chair with a pile of magazines underneath to hold up the springs, covered with folded blankets and a knitted throw over it for comfort, reading some books I bought at the Heart and Hand thrift store for twenty-five cents each.

They stock Jamaica Kincaid, Charles Johnson, Toni Morrison, and Primo Levi. The covers are cut half off, and they have a black stamp that says "Not for resale." Somebody somewhere is making some modest decisions. They're deciding how to live. Maybe it's me.