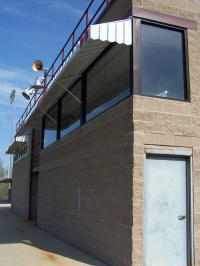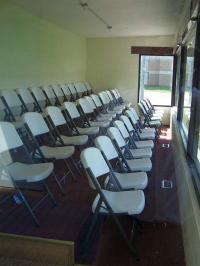 Ox Johnson's dream comes true with the renting
of box seats to support CHS's athletic field
A vision to help Calhoun High's athletic field has been realized, with the construction of box seats for football games at the Wayne Underwood Museum.
The enclosed heated seating area is located on the second story of the museum.
All the seats have been rented.
The Calhoun County High School Athletic Boosters sold the seats for the upcoming season.
"It was a vision of Ox Johnson to see the museum completed and box seating available," said Kelly Houchin, booster club president.
Cecil "Boozie" Wolverton, Lloyd Wright and Burl "Junior" Smith, asked the CHS Athletic Boosters to spear head the seat rental in Johnson's honor.
The fees collected from the seat rental go into a fund earmarked for football field upkeep.
Front row seats cost $55, middle row $50 and third row $45.
Seats have been rented on a first come, first served basis.