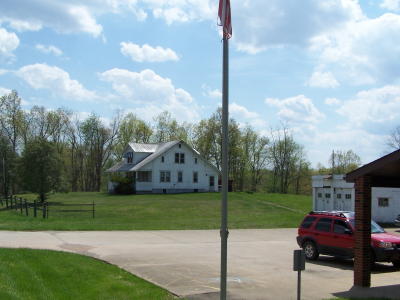 Proposed Mt. Zion site for $3.3 million LK bus complex
By Bob Weaver
The Little Kanawha Transit Authority has obtained an option to purchase 4.5. acres of land to build a new $3.3 million office-garage facility, according to Darlene Harris, manager of the regional bus system.
The option is to purchase property at Mt. Zion adjacent to the post office, originally known as the Slider property. It is currently owned by Edna Kingsbury of Grantsville.
The LK Bus office is currently located at Arnoldsburg.
Harris says a number of steps have to be taken before the purchase of the property happens, such as historical and environmental impact studies.
"Hopefully the project will be put out for bid shortly," Harris said, but it could be several months.
West Virginia is getting a significant amount of money to improve transit services, the LKTA serves Calhoun, Roane and Jackson counties.
The money for the project is under the supervision of WV's Division of Public Transit.
The LK bus system has continued to grow and provide essential transportation services to regional residents at low cost.
Although the Little Kanawha Bus has been around for about 10 years, Little Kanawha Transit Authority (LKTA) formally began operations on July 1, 2008.
Its' 5-person board of directors includes representation from each of the counties in the LKTA service area - Calhoun, Jackson and Roane. Little Kanawha Transit Authority seeks to provide safe, reliable, and affordable transportation to the people in its operating area.
The service makes extra efforts to serve the needs of persons with disabilities and the elderly.