Katie Bryant is safe sliding in at third
Story and photos by Drew Moody
After trailing by five runs in the fifth (0-5) the GSC girls made the contest a horse race to the wire taking the game into extra innings finally succumbing 8-7 to the University of Charleston.
The Lady Pioneers topped UC by a score of 3-1 in the early contest.
Following the game Coach Rick Moore said the team would have finished third in the conference had they prevailed in both games. The team's defense didn't hold up, he said.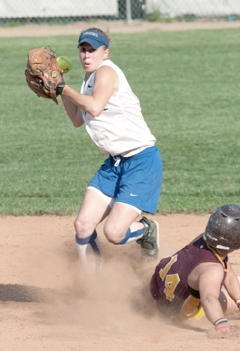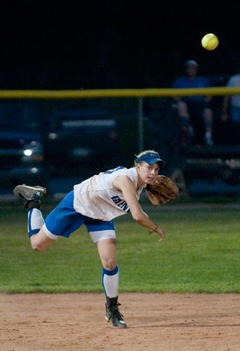 Carly Eskew (L) tags 2nd, then fires the ball to first. Late in
the game Eskew (R) snags a grounder and drills the ball to first
While Moore would have preferred a double-header win, he praised the team and was already thinking about the WVIAC tournament later in the week.
The accomplishments of the softball program is impressive on and off the books. Since taking the helm as head coach four years ago Moore and the Lady Pioneers have just set a school record finishing 17-11 in the conference. It represents the first winning season the team has earned.
"It was a good year," Moore said, "especially starting five freshman."
"Carly Eskew had two outstanding games," Moore said of the University of Charleston series Sunday.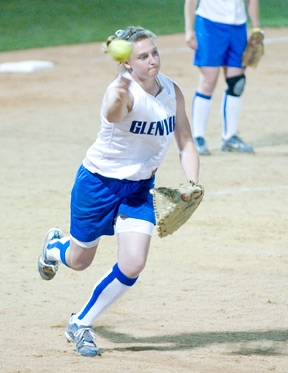 Pitcher Mandy Parkulo easily handles a
bunt, tossing it to first base for the out
In the first game, Mandy Parkulo pitched the entire game holding UC to only six hits, allowed one run and had two strike-outs.
The Lady Pioneers begin WVIAC tournament play Thursday at 10 a.m against West Liberty.