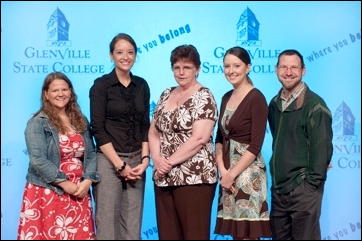 Pictured (L-R) Jessica Dawn Jaffre, Mandi Jo James, Mary
Elizabeth Jones, Sonja Grace Meadows, John Mahlon Brown
Submitted by Bob Edwards
Public Relations Dept. Asst.
Glenville State College
Glenville, WV - Five students from Gilmer County received Academic Achievement Awards at the 2009 Glenville State College Honors Convocation held on Wednesday April 23rd. The awards recognized students who have demonstrated exceptional academic accomplishments, made contributions to the Glenville State College community, and have distinguished themselves among their peers, the faculty, and staff.
Mandi Jo James of Normantown, was honored by the Glenville State College Department of Business. She will graduate with the Bachelor of Science in Business Administration degree in May. She represented Glenville State College at the West Virginia Society of CPAs Student night in Morgantown. She is a Hidden Promise Mentor and was recently chosen as a Distinguished Business Student for being an Outstanding Service Learning Group Leader in her Strategic Management and Planning class.
James has worked for the Glenville State College Foundation as an office assistant from 2005 to the present. She has helped organize and lead the Glenville State College Call-Upon that recruited college students who are calling over 8,000 alumni with a fundraising goal of $75,000. She also serves as a member of the Glenville State College Marketing Committee that has focused the College's branding and marketing efforts and selected a slogan adapted to the target market, 'Where You Belong.'
The GSC Department of Business also recognized Mary Elizabeth Jones of Sand Fork. Jones completed her Associate of Arts degree in Business in 2008 and chose to complete the four-year accounting and management programs. She will graduate in May. She recently attended the West Virginia Society of CPAs' Recruiting Fair in Charleston. She presently serves as a Student Support Services Assistant where she expertly tutors students in business administration classes.
She was recently recognized as a Distinguished Business Student in honor of her outstanding work ethic and academic achievements. Jones has worked as an accountant for Jacky D. Persinger from 2006 to the present.
The Glenville State College Department of Education and the GSC English Department both honored Jessica Dawn Jaffre a senior from Glenville. Jessica will graduate in May with a Bachelor of Arts Degree in Education with specializations in Music (PreK-Adult), English (5-Adult), and Elementary Education (K-6).
The education faculty is proud of the number of certifications she has earned with distinction. She is very active in student organizations across campus and finds time to volunteer for church and community activities. Her recent senior Flute recital received high praise.
Sonya Grace Meadows, a senior from Glenville, was honored by the GSC Education Department. She will graduate in May with a Bachelor of Arts Degree in Education with a specialization in Elementary Education (K-6) and Multi-Categorical Special Education (K-6). Meadows' partner teachers speak exuberantly of her participation and involvement in the public school classrooms.
John Mahlon Brown of Glenville was honored by the GSC Department of Science and Mathematics. John Brown is a general science (5-adult) education major who lives in a yurt that he constructed. He has been an active member in both Chi Beta Phi and the Student Affiliates of the American Chemical Society, which received a commendable rating from the American Chemical Society while he was president.
He has served as a teaching assistant for chemistry and earth science courses, as well as for the 2007 and 2008 NASA Research Academy. During the NASA Research Academy and Summer Institute, Brown conducted tours of his yurt to show how one's carbon footprint can be reduced using solar energy and efficient design.
He has performed numerous demonstrations at elementary, middle, and high schools to promote science education, and he has assisted with several weekend workshops at high schools to educate teachers and students on videoconferencing and data acquisition. Brown has presented at the national meeting of the American Chemical Society and at meetings of the West Virginia Science Teachers Association.
"These students are being recognized for their part in making Glenville State College the best small public college in the country. They are also representatives of the many students who make this college a special place," said GSC President Dr. Peter Barr.