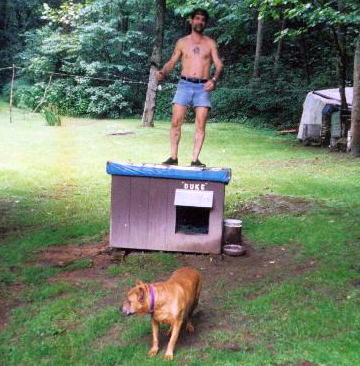 By Bob Weaver
West Virginia's famous dancing outlaw Jesco White is making a comeback on the silver screen in New York this week, but back in Boone County he has been arrested on drug charges.
Jesco and the White family are featured in the new documentary "The Wild and Wonderful Whites of West Virginia," debuting this week in New York at the Tribeca Film Festival.
Jesco and his sister Sue Ann White are being held in the Southwestern Regional Jail on cocaine charges.
Jesco says he has been "set-up," likely by family members who are jealous, and is willing to take a lie-detector test to prove his innocence.
Jesco's preference in mood altering chemicals, proclaimed in the well-known "Dancing Outlaw" PBS production, is much more grass roots than cocaine - he huffed gasoline and lighter fluid.
In a conversation with his wife, Jesco says he took a butcher knife and held it to her neck, saying "If you want to live to see tomorrow, you'd better start frying those eggs better...I'm tired of eating sloppy, slimy eggs."
PBS's "The Dancing Outlaw" at one time sold more copies than any production on the network.
The new film's producer says the movie deals with some very serious issues like the destructiveness of the mining industry and the problems with entitlement culture.
But wild and crazy Jesco, his family and friends will likely be the film's focus, causing first time viewers some serious jaw-dropping.
The film focuses on guns, drug and alcohol use, abusive behavior, gratuitous nudity, hillbilly red-neck behavior and the use of the word m----- f---er more times than in any film ever made.
The documentary follows for a year four generations of the White family, and their famous member Jesco.
The producer says everything with the Whites is about extremes - extreme fun, extreme sadness, extreme love or extreme hate.
If you think the film will cast a positive light on the Mountain State, delusion is your mental status.
Jesco is giving jail house interviews