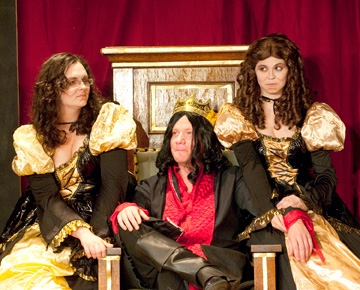 The Duke and Ladies of the Court are sly with their plans. Erica
Butler and StevieAnn Langman (L-R) are perfect in their roles as
they support the Duke's plans; that role handled by Palmer Stephens.
Article and photos by Drew Moody
William Shakespeare's three-act play, "As You Like It" debuts at Glenville State College Wednesday night at 7 p.m.
It's a comedy, drama, love story dating back more than 400 years.
Thought to be written about 1600, the play features the often- quoted speech, "All the world's a stage."
In addition, the play contains the well-known phrase "too much of a good thing."
The play involves a knight's three sons who were to received three gifts from their father. Instead one kept everything, becoming a cruel ruler.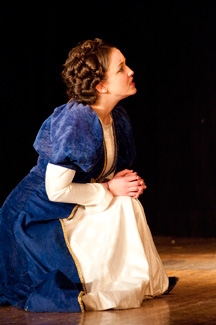 Rosalind, played by Whitney
Stalnaker, is banished from the land.
Coinciding with these events the Duke of the region was deposed by his younger brother.
There are death plots and the Duke's niece is banished from the land.
The set is the inventive creation of director Dennis Wemm. The play has so many location changes Wemm decided to put the set on wheels.
The cast includes: William Herold, Aaron Ginn, Justin Church, Matthew David Thompson, Chase Miller, Whitney Stalnaker, Alea Hinterer, J.C. Sherman Paul Nagy, Palmer Stephens, Ryan Konarske, StevieAnn Langman, and Erica Butler.
"As You Like It" will be performed Wednesday, Thursday and Friday nights. Curtain time is 7 p.m.
Music includes selections from The Barenaked Ladies, The Smashing Pumpkins and Sixpence None the Richer.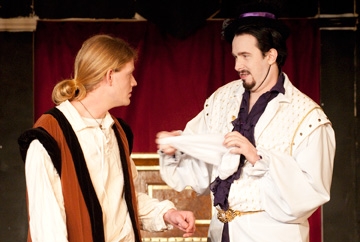 Orlando and Jaques, played by William Herold
and Paul Nagy, in a brief discussion following
Orlando's victory over Charles-the-Wrestler.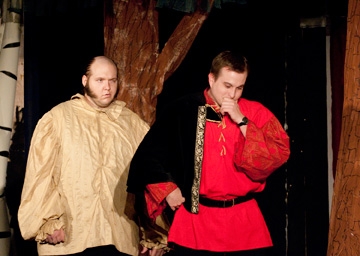 Oliver, played by Justin Church, plots with
Charles-the-Wrestler, played by Chase Miller.