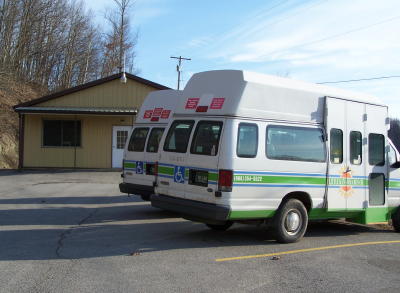 By Bob Weaver
The Little Kanawha Transit Authority, whose main office is in Arnoldsburg, is getting a major boost from the federal government's stimulus package.
West Virginia is getting a significant amount of money to improve transit services, with $3,364,385 going to the LKTA which serves Calhoun, Roane and Jackson counties.
Darlene Harris, manager of the bus company, says the money will be used to construct an operational complex, including a maintenance garage and office.
Harris says some funding could be allocated for the purchase of replacement buses.
The money for the project is under the supervision of WV's Division of Public Transit.
Harris said she has been instructed to look for a 4-5 acre flat building site in Calhoun for construction of the facility.
Meanwhile, Harris said LKTA is asking the WV legislature for $75,000 to continue services in Jackson County, and is requesting concerned individuals to contact delegates and senators to support the allocation.
Unfortunately, the stimulus money cannot be used for Jackson's operational expense, said Harris.
"Calhoun folks should support this budget request," she said.
The LK bus system has continued to grow and provide essential transportation services to regional residents at low cost.
Although the Little Kanawha Bus has been around for about 10 years, Little Kanawha Transit Authority (LKTA) formally began operations on July 1, 2008.
Its 5-person board of directors includes representation from each of the counties in the LKTA service area - Calhoun, Jackson and Roane.
Little Kanawha Transit Authority seeks to provide safe, reliable, and affordable transportation to the people in its operating area.
The service makes extra efforts to serve the needs of persons with disabilities and the elderly.