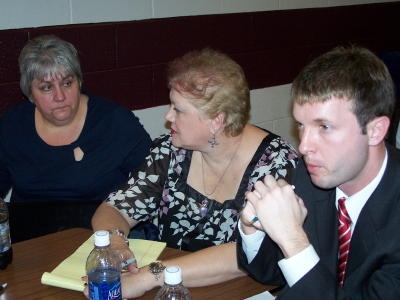 Challenge WV fellows (L to R) Lorelei Scarbro, Jana Freeman
and Thomas Ramey (Coordinator) among other representatives
and video recorders, attended the Gilmer School board
meeting where Superintendent Ed Toman was not rehired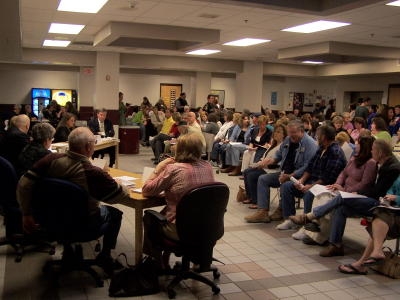 About 150 school personnel and citizens took sides
in a heated controversy over school consolidation
Challenge WV fellows and videographers attended a Gilmer County school board meeting where Superintendent Ed Toman was not re-hired. The 3-2 vote against rehiring was by supporters of keeping three community schools open, Normantown, Sand Fork and Troy.
The issue has split the community.
Challenge WV coordinator Thomas Ramey said his group will be carefully monitoring the situation.
Toman had supported closure of the schools based on structural problems and what he contends is the county's inability to afford them.
The meeting, attended by about 150 Gilmer teachers, their families and student parents, was much quieter than an earlier meeting, with the presence of law enforcement.
Ramey said some Gilmer board members who support community schools received wide vote margins.
"We have said for many years there is little if any evidence that consolidation has saved money. In nearly all instances, it has cost more," said Ramey, frequently thrusting children as young as age four on long bus rides.
"Furthermore, there is little evidence that larger schools improve curriculum or outcomes," he concluded.