By Bob Weaver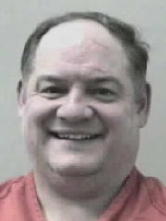 Grantsville resident John Manis Richards (left) is scheduled to appear in Gilmer County Circuit Court on April 17 to hear motions related to charges involving the alleged stealing of equipment and materials from Hardman Supply of Glenville in July, 2007.
Richards' trial had recently been delayed because his attorney's office had burned to the ground, destroying Richards' files.
Attorney Christopher Moffatt has now been appointed to the case, replacing Kevin Hughart.
Two judges have now recused themselves from hearing the Richards case.
Gilmer Circuit Judge Jack Alsop advised the Chief Justice of the Supreme Court of Appeals that he was assigned to the Richard's case following the recusal of the Honorable Richard A. Facemire.
Alsop said upon a review of the reasons for recusal, he felt he should also be removed from the case.
Facemire was recused from the case last October, saying "That upon reviewing certain pretrial sections, the Court noted that part of the basis from the Defendant filing a motion to recuse the prosecuting attorney Gerald Hough from prosecuting this case was related to information on two web sites ... "Lone Meth Ranger" and "Cal Patty Press."
"The Court reviewed those web pages and noted that there were allegations and innuendo that Richard A. Facemire was not impartial and unbiased," he said.
Honorable Larry V. Starcher, former Supreme Court court justice, has been recalled for temporary assignment to hear the Richards case.
Richards' trial is now scheduled for May.
He was indicted in March, 2008 on three counts involving the Hardman Supply incident, where he allegedly took a delivery truck worth $30,000 and $3,200 in building materials and tools.
Richards had been eluding authorities for several months when he was spotted and arrested by Gilmer Sheriff Mickey Metz.
A 2003 case accused Richards with the theft of about $13,000 worth of materials from Hardman's or other outlets.
Richards is known for his web site "The Lone Meth Ranger," where he claims to battle the production of the illicit drug in the region and defends himself from charges filed against him.
Richards is well-known to the court system, with a high profile meth case against him being dismissed after Grantsville State Police lost the evidence.
State Police declined to confirm the findings of an internal investigation of Sgt. C. J. Ellyson, who admitted he had thrown the meth evidence away.
Ellyson was reportedly fired from the agency over the lost evidence and other alleged incidents, none confirmed.
The Richards case was one of only two for alleged Calhoun-originated meth making incidents brought forth by the Grantsville State Police during the past ten years.
Hundreds of meth-related arrests have been made in neighboring counties, some of them linked to Calhoun citizens.