Submitted by Jean Simers

The sixth 2008-2009 Saturday Fun and Learning Day sponsored by Heads Up, GEAR UP and the Parent-Educator Resource Center was held Saturday, February 14th at Calhoun Middle-High School.

Breakfast was served to all participants.

Karen Kirby, Middle-High School Principal, and Bonnie Sands, Technology Coordinator for Calhoun County Schools gave an informational presentation on the Edline program available to all parents of students in Calhoun County. The school system recognizes that parental involvement is vitally important to student achievement.

Through Edline parents can access information about their child's assignments and monitor school activities. Each parent has a unique, confidential log on to the Internet site for their child. If children are ill or missed school for any reason, parents can find information about missed assignments, etc. Mrs. Kirby and Mrs. Sands also showed the group examples of teacher pages which included pictures of the students in activities such as the Christmas play at Arnoldsburg School. If you do not have an Edline account for your children, please contact Mrs. Sands at 354-6148 and she will be glad to assist you.

After lunch, Mrs. Kirby and Mrs. Sands held a workshop for interested parents about the Edline program and how to access their child's information.

Barb McKown from Minnie Hamilton Health System also had an informational booth about heart disease.

Afterward everyone enjoyed lunch catered by the Calhoun Middle School Athletic Boosters.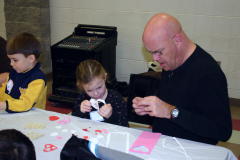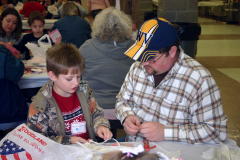 Children and parents enjoy doing projects together during the day
There were approximately 120 children and 110 adults attending the event with the following parents winning door prizes: Bev Metz, stadium seat donated by GEAR UP; Mark Boggs, desk lamp donated by GEAR UP; and Heather Anderson, Marcia Freeland, Krystal Metz and Brian Wagoner winning gift cards donated by Wal-Mart.
The next Saturday Fun and Learning Day will be Saturday, March 14th. During the event, the Dolly Parton Imagination Library will be launched in the county. Children 0 to 5 years of age can sign up for the program where a book is mailed to the child's home free of charge until the age of 5.
There will be informational tables for the parents and children and every child will take home a book that day. Activities after lunch will include a clown and other entertainment.
If you have questions - contact Jean Simers, Heads Up Coordinator at 354-7595.