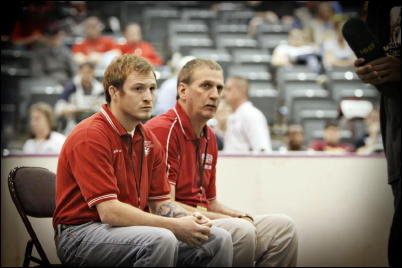 Red Devils head coach Mike Stump (right)
and assistant coach Chris Morris (left)
WVSSAC State High School Wrestling Tournament, Huntington
Photos courtesy of Patty Haught
Calhoun High wrestlers entered the WV State Wrestling Tournament with 12 wrestlers and finished the first evening of competition with 11 wins - in 1st place in the A/AA division.
The second day proved quite challenging for the Red Devils with several wrestlers being knocked out of competition and the team slowly watched their lead fade away.
In the end, after three days of exciting, nail biting action, the Red Devils finished in third place with one champion and five place winners.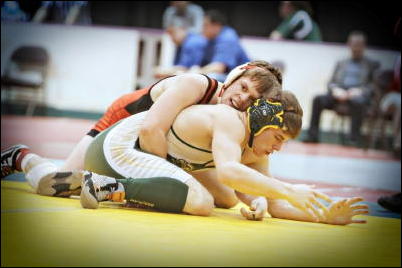 Sophomore, Ben Laughlin (in red and black)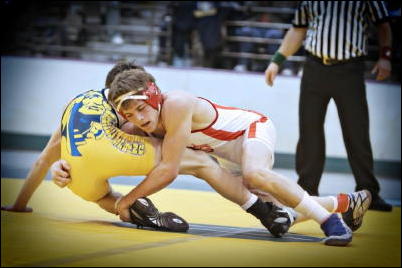 Junior, Cody Clark (in red and white)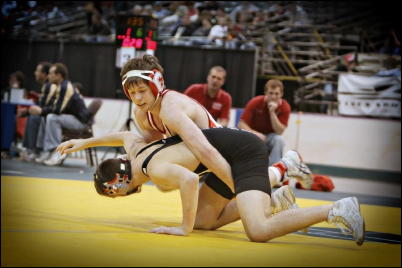 Senior, Sean Gungle (in red and white)
Sophomore Ben Laughlin (145 lbs.) was named Calhoun's lone champion in his weight class, with one 3rd place finish from Junior, Cody Clark at 130 lbs.; 4th place senior, Sean Gungle at 135 lbs.; and 5th place finishes for Senior, Nick Stevens at 112 lbs.; Sophomore, Caden Arnold at 171 lbs. and Junior, Tim Sutro at 189 lbs.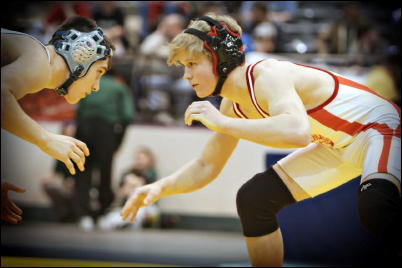 Senior, Nick Stevens (pictured right)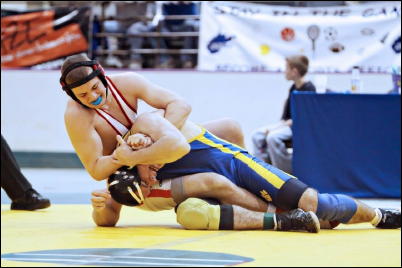 Sophomore, Caden Arnold (in red and white)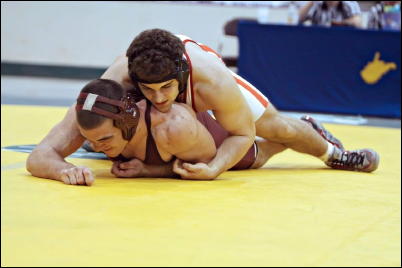 Junior, Tim Sutro (in red and white)
Other wrestlers representing Calhoun at the state tournament, Sophomore, Zach Hanshaw (1-2); Junior, Austin Moore (2-2); Freshman, Harley Hamrick (1-2); Senior, Jeremy Conley (2-2); Junior, Aaron Yoak (1-2); and Junior, Jacob Haught (1-2).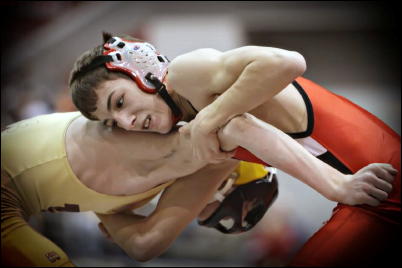 Sophomore, Zach Hanshaw (in red)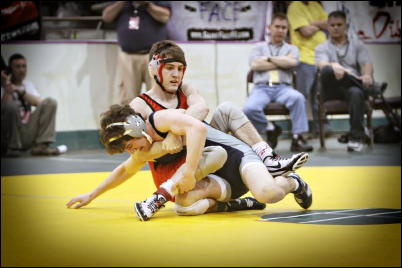 Junior, Austin Moore (in red and black)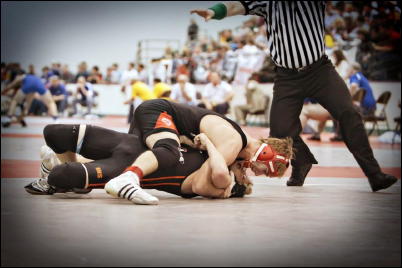 Freshman, Harley Hamrick (top)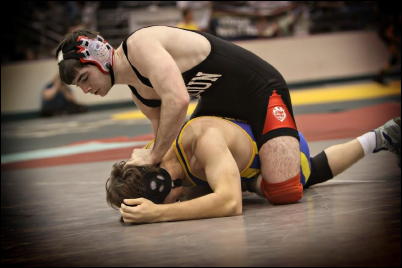 Senior, Jeremy Conley (in black)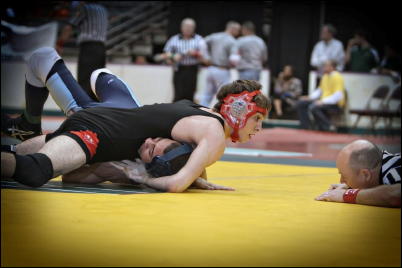 Junior, Aaron Yoak (in black)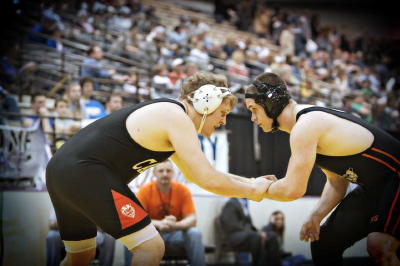 Junior, Jacob Haught (pictured left)