HUNTINGTON - At the conclusion of wrestling on day two at the WV High School Wrestling Tournament, the Calhoun County Red Devils ended the day in 3rd place with 95.5 points.

Oak Glen led the scoring with 131.5 and Point Pleasant with 115.5. Roane County finished in 4th place with 84.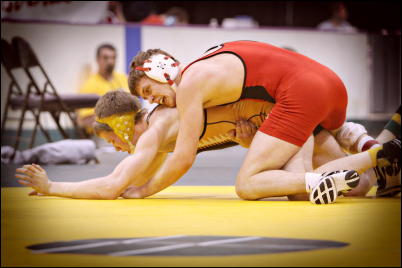 Ben Laughlin wrestles to win and advance to the finals in
high school state wrestling action Friday night in Huntington
Photo courtesy of Patty Haught
Calhoun has one wrestler, Ben Laughlin, that will compete in the finals on Saturday night at 6 p.m. at the Big Sandy Arena.
Laughlin remains undefeated after winning in the semi-final round with a 6-2 decision over Paul Blake of Cameron. He will face AJ Rhoades of Oak Glen.
The Red Devils still have five wrestlers in action that will begin Saturday morning at 11 a.m. - Nick Stevens, Cody Clark, Sean Gungle, Caden Arnold and Tim Sutro.
For individual results or bracket information, all individual scores can be found at this link wvmat.com