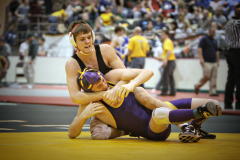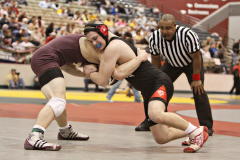 Ben Laughlin (left) remains undefeated after pinning
his opponent from St. Marys; Caden Arnold (right)
upsets a Williamstown wrestler in the first round
(Photos courtesy of Patty Haught)
Calhoun County High school entered the first round of the West Virginia High School state wrestling tournament last night with 12 wrestlers.
The Red Devils ended the evening with 11 victories.
Calhoun also led the A/AA in scoring with 37.5 points ahead of 2nd place Point Pleasant with 30.5 and two-way tie for 3rd place between Oak Glen and Independence with 21.5 points each.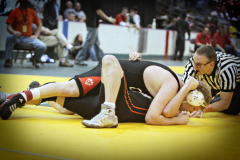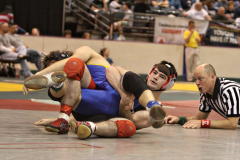 Jacob Haught (left) wrestles for a win against Richwood opponent;
Jeremy Conley (right) is all tangled up, but still gets the win in the
first round of high school wrestling at the state tournament
Individual results from Thursday night action:
112 - Nick Stevens, Calhoun, Maj. Dec. David Mahan, Oak Glen, 14-2
119 - Dustin Kimble, Petersburg, Tech. Fall Zach Hanshaw, Calhoun, 21-2
125 - Austin Moore, Calhoun County, Pinned P.J. Lilly, Independence
130 - Cody Clark, Calhoun, Pinned Cody Everett, St. Marys, 0:55
135 - Sean Gungle, Calhoun County, Maj. Dec. Brett Floyd, Liberty
Harrison, 12-1
140 - Harley Hamrick, Calhoun, Tech. Fall Cordell Murphy, Richwood, 15-0
145 - Ben Laughlin (So) Calhoun Fall Zack Davis (So), St Marys, 1:13
152 - Jeremy Conley (Sr) Calhoun Fall Jason Austin (Sr), Grafton, 2:48
160 - Aaron Yoak (Jr) Calhoun Fall Devonte Petitt (So), Meadow Bridge, 1:18
171 - Caden Arnold (So) Calhoun Dec Matt Hendrickson (So), Williamstown, 8-7
189 - Tim Sutro (Jr) Calhoun Fall Logan Gillespie (FR), Liberty Harrison, :47
215 - Jacob Haught (Jr) Calhoun Dec Cody Boone (Jr), Richwood, 5-0